rotem.rozental

[at]

aju.edu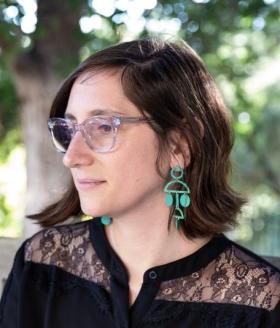 Bio

Rotem Rozental is the Chief Curator of the American Jewish University in Los Angeles. In this capacity, she was appointed Senior Director of Arts and Culture, after having served as the Assistant Dean of the Whizin Center for Continuing Education and the Director of the Institute for Jewish Creativity since 2016. In these roles, Rotem works with and mentors artists throughout various stages of their careers, while spearheading annual exhibition spaces, cultural programming, a growing network of Jewish artists in Los Angeles, cross-city collaborations, institutional collections, educational initiatives and various projects around performing and visual arts. Rotem also mentored artists and organized exhibitions internationally, and her writings and scholarly texts appeared in publications such as Artforum.com, Philosophy of Photography and Tablet. She is also faculty at the Brooklyn Institute for Social Research, where she teaches seminars about theories of photography.

Scholar, public speaker and educator, her research explores the intersections of cultural and archival technologies, civic identities and the shaping of collective narratives. Rotem's Dissertation research, titled Photographic Archives, Nationalism and the Foundation of the Jewish State, 1903-1948, was completed under the guidance of Prof. John Tagg at Binghamton University. In 2015-2016, Rotem served as the Dr. Sophie Bookhalter Research Fellow in Jewish Culture at the Center for Jewish History. Her academic research inspires various projects, including the exhibition series Discussions in Israeli Art (AJU, 2017-2018) and the exhibition Dead Lands: Karkaot Mawat, winner of the NurtureART curatorial call (April-May 2016).

Traversing the domains of technology, media and art, Rotem has been working as a consultant, editor, writer and organizer for international publications, as well as cultural non-profits and organizations. These investigations led her to serve as the Online Editorial Director of The Shpilman Institute for Photography, and the Jerusalem Season of Culture, among other ventures.