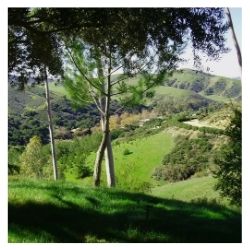 There's nothing like celebrating Shavuot with community! Join for this holiday getaway, May 16-18 at our Brandeis-Bardin Campus.
Shavuot at the Brandeis-Bardin Campus will feature all of our fun activities – horseback riding, swimming in our two pools, archery, axe-throwing, climbing, team building, hiking, and  more! Many activities are done in family pods, but some can be open to multiple families/guests at a time (per Ventura County guidelines). Plus, special Shavuot (dairy) cooking classes will be offered! The weekend will begin with an all-night Tikkun (study session), organized by the Shtibl Minyan including snacks and coffee served all night. Traditional egalitarian services will be coordinated by Shtibl as well.
This 2-night getaway includes delicious kosher food (certified by KosherLA). There is an option to add a 3rd night for May 18, which includes a boxed breakfast the morning of checkout. 
Come spend Shavuot with us and enjoy our 2,800-acre campus surrounded by community - or enjoy the quiet and solitude - all in a COVID-compliant environment.