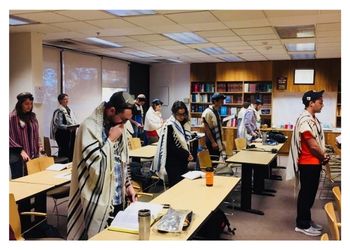 At Ziegler, your life will be fostered by a campus community that is warm and caring. Your journey will be knitted together by lasting friendships, professor-mentors, and the opportunity to make a difference. The student experience is focused on helping you develop skills to achieve success and fulfillment in your professional, civic and personal life.
In addition to the classroom experience, Ziegler students come together in many ways. Daily minyan, run by students, is an integral part of the day in which everyone, regardless of their class schedule, is invited to join together in moments of personal reflection and communal prayer. Throughout the year, students and faculty also observe Judaism's sacred moments together through formal and informal Shabbat and holiday programming, shared meals, and discussions. In addition, members of the community celebrate one another's simchot in times of joy, and are there to comfort during the difficult moments of death, illness, or other personal challenges.
We find that for many, the key to a successful Ziegler experience is getting involved.  We encourage our students to take advantage of all AJU and its surrounding communities have to offer.
This is your Ziegler experience, so why not make the most of it!
Minyan

An egalitarian and traditional Jewish minyan (prayer service) is regularly held during morning and afternoon hours in the Sara and Simcha Lainer Beit Midrash which can be found on the second floor balcony. Prayer services are facilitated by the Ziegler School of Rabbinic Studies and are open to the entire student population, for students to participate in and lead. Minyan is available Monday-Thursday and holds a regular Torah Service. Services also accommodate for any Jewish holiday that does not require that the university close; e.g the 10 Days of Repentance, the intermediate days of Sukkot, Chanukah, or Rosh Chodesh (beginning of the Jewish month). Occasionally, the Beit Midrash will also accommodate a kiddush (small festive snack) for celebrations for it's community members.

Minyan Hours

Monday

Tuesday

Wednesday

Thursday

Shacharit

8:00am

x

7:30am

x

Mincha

2:40pm

*At the conclusion of community lunch or other programs when scheduled

3:35pm

3:35pm

Jewish Life

Los Angeles is geographically vast, and the opportunities for engaging in Jewish life run the spectrum. From synagogues to museums to kosher markets, there's a bit of everything everywhere you look.

As one of the largest Jewish Communities in the world, Los Angeles has many Synagogues and Shuls to fit your specific requirements. Every denomination is represented throughout the city, from Conservative, to Orthodox, to Reform, and everything in between, there are many choices that can meet your spiritual needs.

Let's not forget the great Jewish neighborhoods in every part of this city such as Fairfax, Pico-Robertson, Encino, Valley village and that's just the beginning….

Hakhel – Covenantal Community

Community Lunch – A chance for us to come together for a meal provided by the school. No other agenda than spending time together!

Seudah Shlishit – On the 3rd shabbat of the month we gather at the home of a faculty member for an open-door dairy/veggie potluck open to students, faculty, friends, families, and significant others. Ends at Havdalah.

Shabbat B'yachad - Host or be Hosted! Those who sign up to be hosted will be placed at a Shabbat dinner offered by those who sign up to host. We know that there are shabbatot when time gets away from us or when we would love to know we have a meal set for us.

Q & A with Rabbi Artson – A chance to ask the Rabbi anything (other than administrivia)! We are reviving a popular and regular lunch session with Rabbi Artson. Bring your own lunch and meet in the Lainer Beit Midrash.

Lunch and Learn with Faculty – Have you ever wondered what our esteemed teachers and rabbis are working on? What is the Torah that they want to teach today? Well, we have the chance to spend lunch learning the wisdom of our teachers outside the classroom. Bring your own lunch and meet in the Lainer Beit Midrash.