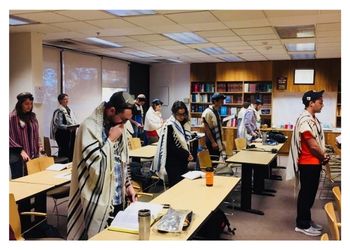 At Ziegler, your life will be fostered by a campus community that is warm and caring. Your journey will be knitted together by lasting friendships, professor-mentors, and the opportunity to make a difference. The student experience is focused on helping you develop skills to achieve success and fulfillment in your professional, civic and personal life.
In addition to the classroom experience, Ziegler students come together in many ways. Daily minyan, run by students, is an integral part of the day in which everyone, regardless of their class schedule, is invited to join together in moments of personal reflection and communal prayer. Throughout the year, students and faculty also observe Judaism's sacred moments together through formal and informal Shabbat and holiday programming, shared meals, and discussions. In addition, members of the community celebrate one another's simchot in times of joy, and are there to comfort during the difficult moments of death, illness, or other personal challenges.
We find that for many, the key to a successful Ziegler experience is getting involved.  We encourage our students to take advantage of all AJU and its surrounding communities have to offer.
This is your Ziegler experience, so why not make the most of it!