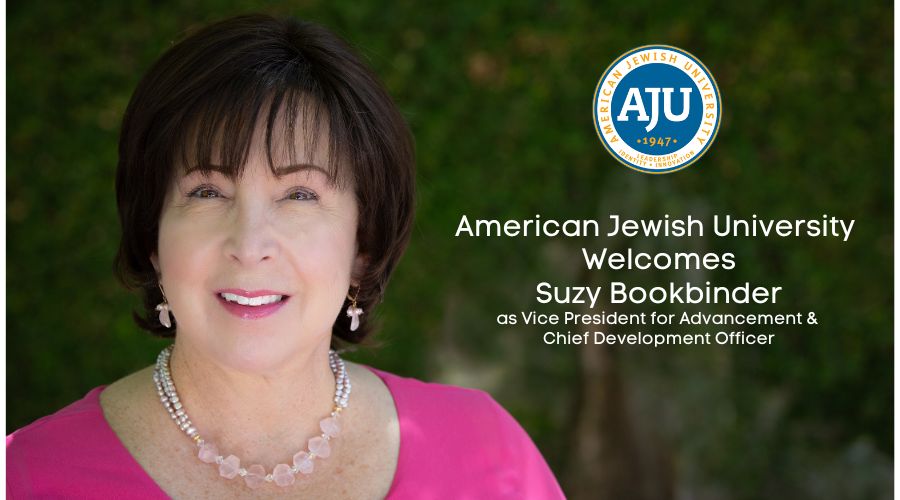 Los Angeles, CA – American Jewish University (AJU) is pleased to announce the appointment of Suzy Bookbinder as Vice President for Advancement and Chief Development Officer. In this role, Bookbinder will work closely with AJU's president, board, and senior leadership to advance the university's philanthropic goals and continue to foster a relationship of service and partnership with the community.
Bookbinder is an accomplished fundraising professional with more than 30 years of experience. She recently served as the Executive Philanthropy Consultant at Jewish World Watch and previously held positions at Hillel International as the Director of Donor Relations; Jewish Family Service Los Angeles as the Chief Development Officer; and deToledo High School as the Chief Advancement Officer.
"American Jewish University holds a significant and ongoing role in my life and the lives of many others. The university serves as a lifelong institution that embraces individuals at all points of their Jewish journey," stated Bookbinder. "With my parents having met at BCI, my personal involvement in AJU courses, and my experience teaching for the university's MBA program, I am excited to once again be a part of this remarkable establishment in my new capacity as the Vice President for Advancement and Chief Development Officer. My goal is to enlighten potential supporters and donors, fostering in them the same passion for AJU that existing community members hold."
The University is in the midst of a comprehensive fundraising campaign that will support the construction of new facilities at Camp Alonim on AJU's Brandeis-Bardin Campus, as well as develop and support programmatic initiatives. Other initiatives include the expansion of AJU's digital programming, sponsoring new curricular initiatives in the Ziegler School of Rabbinic Studies, and growth in the Maas Center for Jewish Journeys.
"American Jewish University is continuing to develop our facilities and course offerings to meet the needs of an evolving Jewish community," said Dr. Jeffrey Herbst, President of American Jewish University. "Suzy Bookbinder is an accomplished fundraiser with a strong understanding of the Jewish community, and we are delighted to see her bring this expertise, leadership, and problem-solving skills to her new role as AJU's Vice President for Advancement and Chief Development Officer."
About AJU: American Jewish University (AJU) is a thriving center of Jewish resources and talent that serves the Jewish community of the twenty-first century. A portal for Jewish belonging, AJU equips students, faculty, campers, and learners of all ages with the tools to create the ideas, build the structures, and develop the programs to advance Jewish wisdom and elevate Jewish living. For more information, visit www.aju.edu.
Contact Communications
Michelle Starkman, M.A., MBA
Vice President, Communications
michelle.starkman

aju.edu
(310) 440-1526