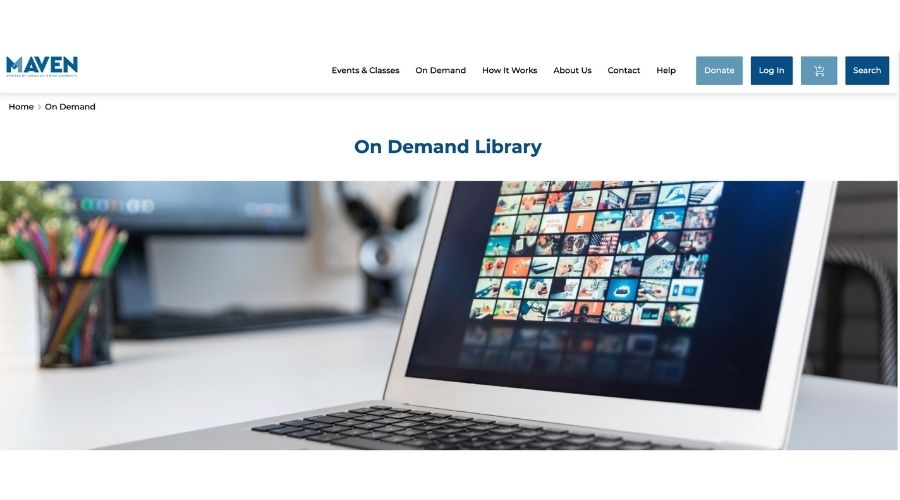 A bold, new digital platform, Maven is reimagining how individuals and communities learn and access Jewish wisdom through exclusive events and classes.  
LOS ANGELES—Today, American Jewish University (AJU) announced the launch of Maven, its new digital platform that features live events, online classes, and an on-demand library of dynamic Jewish content. Maven is available to individual community members and offers several different innovative partnership models through which Jewish organizations across the world can leverage the platform's content.  
Maven provides an opportunity for Jewish communities globally to access high-level Jewish educational programming and wisdom in a new model that is tailored to the rapidly changing world. Individual users can view or partake in a variety of courses, upcoming events, and recorded events on topics from Jewish thought to art; from literature to policy; and culture and media. Each conversation is hosted by a member of AJU's faculty. Among those featured in recorded events are New York Times bestselling author Anita Diamant and Academy Award-winning producer Melissa Berton; Former Ambassador of Israel to the United States Michael Oren; the UAE's Assistant Minister for Cultural and Public Diplomacy, His Excellency Omar Saif Ghobash; and Ozark's Julia Garner and Chris Mundy.  
In line with AJU's mission, Maven also seeks to elevate Jewish institutions by providing them with content that they can customize to their audience's needs through several partnership models. Whether a local synagogue is looking to offer its congregants robust conversations around Jewish thought, or a community center is looking to offer Hebrew language classes, or a Jewish cultural center is looking to offer art workshops—Maven partners have unique access to high-quality content.  
"AJU is keenly focused on providing paths to connection in an isolating and fluctuating world," said Rabbi Sherre Hirsch, AJU's Chief Innovation Officer who brought the vision for Maven to life. "Through Maven, we are opening a space for Jewish institutions to create new opportunities for learning in their communities, no matter where they are in the world or how they affiliate. Everyone should have the opportunity to become an expert at what they're passionate about—that is the inspiration for Maven."  
"American Jewish University sees a clear opportunity to engage large numbers of Jews and others who have not found their home for learning by becoming the digital provider of choice for individuals and Jewish institutions," said AJU President Dr. Jeffrey Herbst. "Maven was developed with these needs in mind."  
Maven will kick off with several live events, including Chosen by Choice, a conversation with Nellie Bowles,  Bari Weiss, and Rabbi Sherre Hirsch. Bowles, a Greek-Orthodox and Episcopalian New York Times journalist will discuss her conversion to Judaism after meeting the love of her life Bari Weiss, one of the most prominent voices in the American Jewish community. The guests will discuss obstacles faced along the way and what it means to live an authentic Jewish life.  
About AJU: American Jewish University (AJU) is a thriving center of resources and talent that advances the Jewish journeys of individuals, organizations, and our community through excellence in scholarship, teaching, engaged conversation, and outreach. AJU equips students, faculty, campers, and learners of all ages with the tools to create the ideas, build the structures, and develop the programs to advance Jewish wisdom and elevate our world. For more information, visit www.aju.edu.    
# # # 
Contact Communications
Michelle Starkman, M.A., MBA
Vice President, Communications
michelle.starkman
aju.edu
(310) 440-1526
For urgent media inquiries or reporters on deadline, please contact us at:
(310) 571-8264 or
(310) 739-9489