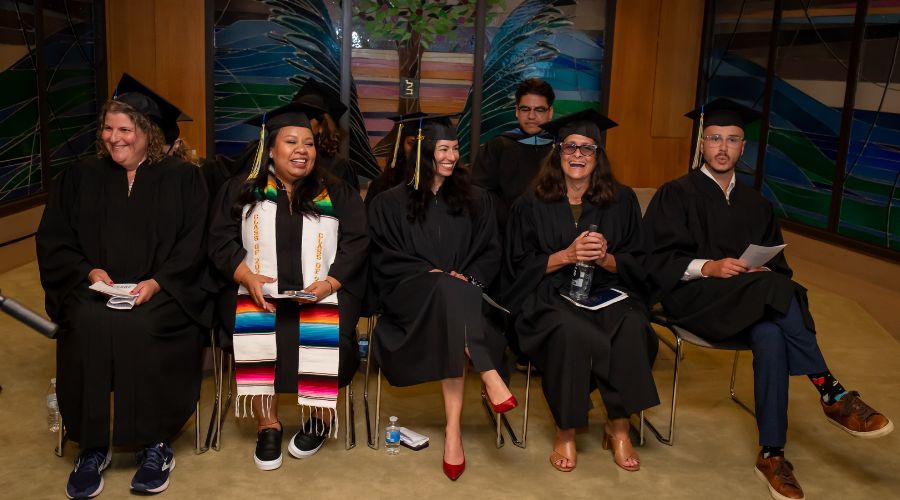 LOS ANGELES – On August 13, American Jewish University honored the accomplishments of 17 graduates during a spirited commencement ceremony on AJU's Familian Campus in Los Angeles.
Notably, five of the School of Jewish Education and Leadership's (SJEL's) Bachelor of Arts in Early Childhood Education (BA in ECE) graduates have enrolled in AJU's Masters of Arts in Education in Early Childhood Education (MAEd in ECE) degree program. The others will begin their education careers teaching the next generation of Jewish youth.
"There are few vocations more noble and more rewarding than nurturing young minds," shared Dr. Bruce Powell, Interim Dean of the School for Jewish Education and Leadership, in his welcome speech. "I am thrilled to have assumed leadership of this school at such a momentous time, and as a life-long educator I cannot overstate my excitement for those of who you are earning your ECE bachelor's degree today."
Dr. Tamar Andrews, an AJU faculty member and Director of the university's Early Childhood Education programs, shared her perspective on the value of an AJU education for new teachers: "Keep the ideals of the Torah, the morals and ethics you have learned in this degree program as a light you keep with you at all times."
Many graduates also spoke, citing the "truly special environment," "inspiration and hope to never give up" and "professional, talented, and knowledgeable teachers" as enabling them to "build self-confidence, broaden horizons, and become leaders" and achieve "newfound home for the future of Jewish education."
The School of Jewish Education and Leadership graduates included Nechama Dena Brown, Delia Carlos, Marlo Kane Dewing, Jodi Beth Levine, Alexander Quenan, Dorit Schonbrunn, Dafna Zarin Taryle, and Tanenge F. Yimer.
The day also honored AJU's College of Arts and Sciences graduates and six School of Enterprise Management and Social Impact (SEMSI) graduates.
Chief Academic Officer Dr. Robbie Totten called the graduates "ethical change agents of all backgrounds" who "lead purpose-driven ventures, generate sustainable value for a diverse set of stakeholders, and embrace the transformative potential of contemporary business." He added that the SEMSI program "is also notable for its status as an entirely online, entirely asynchronous MBA program."
The College of Arts and Sciences (CAS) graduates were Daniel Schuller (B. A. in Business Administration and Business Innovation), Anna Esabelle Pekur (B. A. in Psychology), and Dani Feldman (B.A. in Business Administration), while the SEMSI graduates were Diego Sepúlveda Soto, Ashley Skiffer-Thompson, Deborah Engel, Jory Glick, Alex Kress, and Daniel Sher.
This fall, AJU will welcome a total of 66 new students, across their B.A., MAEd, and EdD in Early Childhood Education programs, their early childhood education extension program, and their mentor teacher training program.
About AJU: American Jewish University (AJU) is a thriving center of Jewish resources and talent that serves the Jewish community of the twenty-first century. A portal for Jewish belonging, AJU equips students, faculty, campers, and learners of all ages with the tools to create the ideas, build the structures, and develop the programs to advance Jewish wisdom and elevate Jewish living. For more information, visit www.aju.edu.    
# # #
Contact Communications
Michelle Starkman, M.A., MBA
Vice President, Communications
michelle.starkman

aju.edu
(310) 440-1526