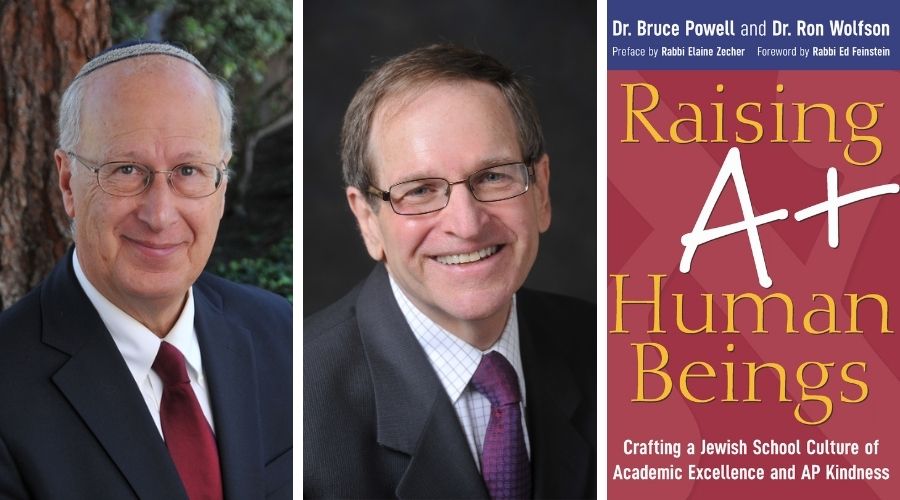 American Jewish University will host faculty members Dr. Bruce Powell, Distinguished Lecturer of Jewish Education, and Dr. Ron Wolfson, Fingerhut Professor of Education, on its B'Yachad Together online webinar platform for a virtual conversation about their new book, Raising A+ Human Beings: Crafting a Jewish School Culture of Academic Excellence and AP Kindness. Dr. Powell and Dr. Wolfson will join Dean Lerner for an engaging conversation about how school cultures can change students' lives, instill confidence, and empower them to take on the world with sound moral judgment. They will discuss Dr. Powell and Dr. Wolfson's blueprint for how to create an educational culture that informs, motivates, inspires, and shapes character steeped in Jewish values and "advanced placement" kindness.  
Dr. Bruce Powell has helped found and lead three Jewish high schools in Los Angeles, including Yeshiva University of Los Angeles High School, Milken Community High School, and most recently de Toledo High School. He has consulted on the founding of 23 more Jewish high schools throughout North America.
Dr. Ron Wolfson is the author of numerous books including: "Relational Judaism: Using the Power of Relationships to Transform the Jewish Community" and co-author of "The Relational Judaism Handbook: How to Create a Relational Engagement Campaign to Build and Deepen Relationships in Your Community."
Dr. Rachel Lerner is the Dean of the Graduate Center for Jewish Education at American Jewish University, where she oversees the MAEd, MAT, MAEd in ECE, and BA in ECE completion programs.

Download PDF
Contact Communications
Michelle Starkman, M.A., MBA
Vice President, Communications
michelle.starkman

aju.edu
(310) 440-1526