Event Details
Jewish Sectarianism in Antiquity: Insights and Teachings for Here and Now
Tuesday, 10am-11am PST
---
Prerequisite Note: Due to the virtual setting of this class, you must have computer capability, including internet access, in order to participate. A camera is also optimal but not required.
---
Our understanding of sectarianism in Judaism did not begin with Orthodox, Conservative and Reform denominations.
Rather their origins began during the Hellenistic period when the Pharisees, Saducees, Essenes and Qumran developed.
Discover who they were, how they served as possible bridges to Christianity and their role in influencing and shaping Jewish history.
---
ALL SALES FINAL. NO REFUNDS OR EXCHANGES.
---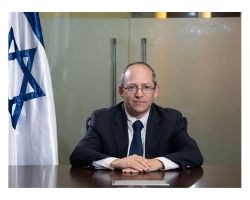 Dr. Hillel Newman assumed the post of Consul General of Israel in July 2019, where he serves as the senior representative of the State of Israel to the Pacific Southwest.
Consul General Newman is a highly respected author, academic and statesman. Dr. Newman's diplomatic experience includes serving as a Policy Advisor to three Foreign Ministers, Ambassador to Tajikistan and Uzbekistan and Deputy Consul General in Boston.
Most recently, as both Special Policy Advisor to the Director General and as Director of the World Jewish Affairs Department, Consul General Newman has been intimately involved in the most current and pressing issues on the global Jewish agenda. He also has a unique overview of the strategic threats facing Israel due to playing a key role in the Strategic Division of the Foreign Ministry.
Consul General Newman made Aliyah to Israel with his family, as a young man, from South Africa. He served as a medic in the IDF and is married to Ayala. The couple have a ten-year-old son, Ram.
Event Contact
Contact Name
The Whizin Center for Continuing Education