Event Details
Essential Life Lessons for Every Jew
Monday, 1pm-2pm PST
---
Prerequisite Note: Due to the virtual setting of this class, you must have computer capability, including internet access, in order to participate. A camera is also optimal but not required.
---
Have you ever wondered how Judaism's ancient wisdom can apply to and enhance our modern-day lives?
Join us on this journey together as we explore essential and practical life-lessons that Judaism offers for every Jew and every person, regardless of background and affiliation.
In this session, we will present revolutionary ideas and tools, culled from Judaism's fountain of knowledge, that will focus on some of life's big questions - from finding one's purpose to the secret of happiness; from personal growth to loving relationships.
---
ALL SALES FINAL. NO REFUNDS OR EXCHANGES.
---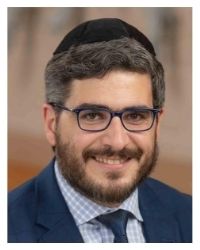 Rabbi Pinchas Allouche is the founding Rabbi of one of the most vibrant and fastest-growing synagogues in the United States, Congregation Beth Tefillah of Scottsdale, Arizona, where he resides with his wife, Esther, and nine children.
He is a recognized rabbinic figure, a respected author of numerous literary works, and a gifted public speaker who has enlightened and inspired audiences throughout the United States, Europe, Israel, and South Africa.
Besides his academic pedigree, Rabbi Allouche is richly-cultural, having lived in France, where he was born, South Africa, and Israel. He is fluent in English, Hebrew, French and Italian.
Rabbi Allouche is a member of AIPAC's National Council and a member of the Orthodox Rabbinic Council of Arizona. He is also tremendously involved in the Jewish community of Greater Phoenix, and he teaches middle-school Judaics at the Pardes Jewish Day School.
Rabbi Allouche is also a prolific blogger for the Huffington Post, Times of Israel, and many other large publications. Rabbi Allouche was listed in the Jewish Daily Forward as one of America's 36 Most Inspiring Rabbis, who are "shaping 21st Century Judaism."
For more info on Rabbi Allouche, please visit: www.RabbiAllouche.org
Event Contact
Contact Name
The Whizin Center for Continuing Education