Instructor
Dan Schifrin and Sophie Herxheimer
Event Details
A Workshop to Boost Your Creativity
Mondays, 10am - 11:30am PST
---
Prerequisite Note: Due to the virtual setting of this class, you must have computer capability, including internet access, in order to participate. A camera is also optimal but not required.
---
In a claustrophobic world, how do we access--and expand--our imagination?
Join poet/artist Sophie Herxheimer and writer Dan Schifrin for a boot camp to reignite your creative juices. You will emerge with a fuller understanding of your own creative potential through guided experiences with writing and drawing.
With the materials in your home, you will find yourself making useful mistakes, creating unexpected friendships, and re-imagining what is possible.
---
ALL SALES FINAL. NO REFUNDS OR EXCHANGES.
---
Daniel Schifrin is a writer, teacher and curator of conversation. He has taught at UC Berkeley and San Francisco State University, been a visiting scholar at Stanford University, writer in residence at the Contemporary Jewish Museum, and a curator for the San Francisco Museum of Modern Art exhibition "Beyond Belief: 100 Years of the Spiritual in Modern Art."  His public conversations with thinkers writers and artists have taken place at City Arts & Lectures, Berkeley Repertory Theater, UC Berkeley, Stanford University, and the 92nd St. Y, among other places. Dan's fiction and essays have appeared in McSweeney's, the Los Angeles Times,  and the San Francisco Chronicle. He is the winner of the 2016 Wilner Award for Short Fiction from San Francisco State University, a winner of the 2018 Anne and Robert Cowan Writers Award, and the runner-up for the 2015 Sequestrum New Writer Award. Dan is currently finishing a book of short stories, and a memoir about parenting; his first play, "Sweet and Sour," received staged reading at Z Space in the spring of 2018.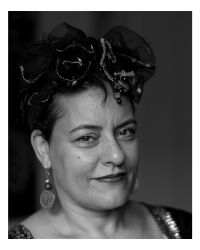 Sophie Herxheimer is a British artist and poet.  She's held many residencies including for London International Festival of Theatre, Museum of Liverpool, and Transport for London, and in 2020 she spent six months as the Peleh Fund artist in residence in Berkeley California. In 2019 she was a Hawthornden Fellow.  
Her work has been shown at her local allotments, on a 48 metre hoarding along the sea front at Margate, as well as at Tate Modern and The National Portrait Gallery.  
Sophie has made a hand printed 300 metre tablecloth to stretch across Southwark Bridge for a communal feast during the Thames Festival, a life size woman shaped concrete poem to stand next to Mrs Beeton's grave, and a pie large enough for seven drama students to jump out of singing, on the front lawn of an old people's home. She has illustrated five volumes of fairy tales and made several artist's books. An ongoing project involves collecting stories from members of the public, by listening and drawing with them in one to one live collaboration.   
Her poetry collection, Velkom to Inklandt (Short Books, 2017) was Poetry Book of the Month in the Observer and a Sunday Times Book of the year. Her latest book 60 Lovers to Make and Do (Henningham Family Press, 2019) is a TLS book of the year, and spring 2021 sees the publication of a new work: INDEX, a pack of prophetic poem-cards (zimZalla, 2021). Also coming in the spring: Inventory of a Life Mislaid, by Marina Warner, Harper Collins, 2021) for which Sophie has made over 90 original papercuts.  
Sophie currently teaches for The Royal Drawing School. She lives in south London with her family.  
Event Contact
Contact Name
The Whizin Center for Continuing Education