Event Details
A Spiritual Take on Mental Illness, Anxiety and Depression
10am-11am PST
---
Prerequisite Note: Due to the virtual setting of this class, you must have computer capability, including internet access, in order to participate. A camera is also optimal but not required.
---
Back by popular demand! Join Rabbi YY Jacobson for a deep dive into 4,000 years of Jewish wisdom to explore what tradition has to say about depression and anxiety.
Did our greatest prophets and leaders suffer from depression just like us? And did the bible address these crises? As the world faces tremendous challenges to mental health and well-being, we will explore how a spiritual approach can inform our daily routine.
---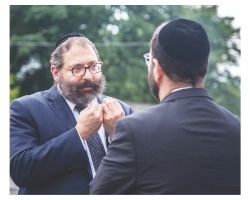 One of America's premier Jewish thinkers and leaders, Rabbi YY (Yosef Yitzchak) Jacobson is one of the most sought-after speakers in the Jewish world today. He serves as a mentor to hundreds of thousands across the globe and is considered one of the most passionate and mesmerizing communicators of Judaism in today's generation.
During the coronavirus pandemic, he presented hundreds of classes and lectures, to every demographic of the Jewish community worldwide, offering inspiration and perspective. His video clips of empowerment and resilience went viral, reaching millions.
Rabbi YY Jacobson was the first Rabbi ever to be invited by the Pentagon to deliver the religious keynote to the US Military Chief of Chaplains and to the National Security Agency. Over the last twenty years, Rabbi Jacobson traveled to hundreds of communities, shuls, schools, yeshivos, and universities across the globe, educating and inspiring people of all backgrounds with the majestic depth of Torah and Yiddishkeit.
Rabbi Jacobson founded and serves as Dean of TheYeshiva.net, teaching, via the web, one of the largest Torah classes in the world today, with thousands of students globally.
Born in 1972 in Brooklyn, NY, Rabbi Jacobson grew up at the feet of the Lubavitcher Rebbe, absorbing his teachings and writings. In 1988, at the age of 15, a young Jacobson began serving on a small team of "oral scribes" and human tape recorders. They were charged with memorizing and transcribing three to seven hours of talks by the Lubavitcher Rebbe of blessed memory, which were presented on the Shabbat and Jewish holidays, when recording devices were not used.
Jacobson serves as the spiritual leader of the Ohr Chaim Synagogue in Monsey, NY, and authored of "A Tale of Two Souls"—a 150 audio series on the teachings of the Chassidic classic, the Tanya. He has written more than 1,000 articles on Biblical and Talmudic studies, Jewish law, Kabbalah, psychology and history. Formerly, he served as editor-in-chief of the largest Yiddish English newspaper existing today, The Algemeiner Journal.
Event Contact
Contact Name
The Whizin Center for Continuing Education