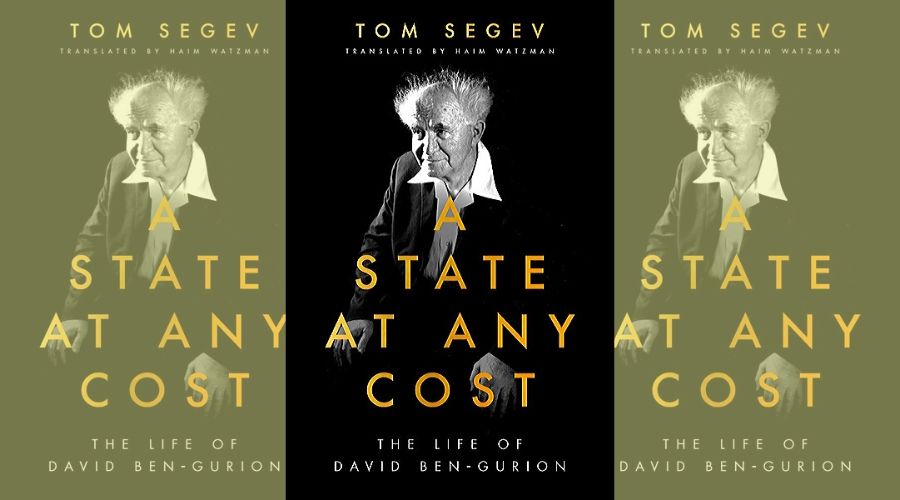 David Ben-Gurion and Tom Segev are consequential figures in the history of Israel, one of them for making it and the other for writing about it. That's why Segev's new biography of Ben-Gurion, "A State at Any Cost: The Life of David Ben-Gurion" (Farrar, Straus and Giroux) is such a significant and highly anticipated event.
Segev, a distinguished Israeli journalist and historian, has been described as a "revisionist" because his meticulously researched and highly provocative books have re-framed and re-focused the history of Israel. Ranging from "One Palestine, Complete" to "The Seventh Million: Israelis and the Holocaust," from "1949: The First Israelis" to "1967: Israel, the War, and the Year That Transformed the Middle East," Segev has described the history of Zionism, the Holocaust, and the creation of the Jewish state from a courageous and sometimes challenging perspective.
Ben-Gurion, the early and enduring leader of the Zionist movement and the State of Israel, is necessarily depicted in all of these books, but now Segev has reexamined Ben-Gurion's life and work in tight focus. During his lifetime, Ben-Gurion "worked diligently to shape the historical narrative of his time and of himself," Segev writes. His letters, diaries, speeches, articles and books, amounting to "millions of words," were "aimed at gaining the sympathy of future generations. Now Ben-Gurion, a man of immense accomplishment and complexity, has gotten the biographer he deserves.
"A State at Any Cost," translated from Hebrew by Haim Watzman, penetrates the myths and legends that have threatened to erase the flesh-and-blood human being. Starting in his 20s, Ben-Gurion aspired to write himself into the history of Zionism, but "he did not take credit for founding the state," as Segev writes, and "justifiably so." Yet the death of Ze'ev Jabotinsky — "his great nemesis on the right" — and "the decline of Chaim Weizmann, president of the Zionist Organization, "left him almost unopposed in the worldwide Zionist movement." As Segev shows us, Ben-Gurion was present at the creation of modern Israel at its every moment of both peril and triumph over the most eventful half-century in Jewish history.
Segev's book showcases his trademark approach to retrieving and revealing the colorful and often unexpected facts of history. Ben-Gurion once boasted that he knew from the age of 3 that he wanted to leave the Polish town where he was born in 1886 as David Yosef Gruen. "I was born a Zionist," he claimed. He borrowed his new last name from a first-century Jewish politician in Jerusalem who appears in the ancient writings of Josephus as a champion of democracy. In the early years of Bolshevik Russia, Ben-Gurion traveled to an international agriculture fair in Moscow, where he was permitted to "fly the blue-and-white Zionist flag alongside the Histadrut's red flag" at a display of the figs, olives, chocolates, cigarettes and canned goods that were produced by the Jewish community in Palestine. When he visited Munich in 1933, Ben-Gurion bought a copy of "Mein Kampf." 
More than one paradox emerges from Segev's biography. Ben-Gurion was a wholly secular Jew, and yet "[o]ne might almost say that he had a mystical faith in the power of and mission of science to solve what seem to be insoluble problems," as Gen. Yohanan Ratner said of him. He worked on Yom Kippur, ate pork, and commented on his refusal to pray with the distancing remark: "I hope that your God will forgive me that transgression." Yet his personal library at Sde Boker, the Negev settlement where he retired, included a complete set of the 20-volume Zohar, the root of Jewish mysticism. 
Ben-Gurion, as we see, was entirely open-minded when it came to tactical matters but his ultimate goal was always fixed and singular. For example, he regarded the cooperation between the Jewish Agency and the British authorities in Palestine as "the cornerstone of the national home," and Segev credits them with a crucial role in the achievement of the Jewish state: "The British did not only assist in the 'state-in-the-making,' " Segev writes. "[A]s Arab terror increased, they also lent a hand to the establishment of an 'army-in-the-making.' "
"A State at Any Cost" also includes some intimate details of Ben-Gurion's private life that put the great man in a new and unaccustomed light. Early in his marriage to his wife, Paula, she sent letters to the camp in Canada where Ben-Gurion was training to serve in a Jewish unit of the British army in World War I. " 'You are a bad lover, husband, and father,' she wrote to him, and again and again reminded him to keep his promise to her, which was apparently that he would not be unfaithful and would not be killed." Later, as Segev reveals, her concern was proven to be justified — Ben-Gurion engaged in several flirtations and affairs, and he wrote to one young woman that love "is a human weakness that nothing should be done to counter." Although he wanted a fourth child, Paula declined. "I never told Ben-Gurion how many abortions I had," she reportedly confided to Israeli politician and author Yitzhak Navon. "Three children are enough for me."
Segev reminds readers that Ben-Gurion may have opposed the tactics of Menachem Begin's Irgun paramilitary organization, but he was open-eyed about the fact of Arab resistance to a Jewish state. The wishful notion that Palestine was "a country without a people for a people without a country" struck Ben-Gurion as "naïve Zionism," and he regarded the Arab population as a problem to be solved: "He believed that the Land of Israel belonged to the Jews and that they deserved to receive it despite the fact that it was populated by Arabs." Ben-Gurion was willing to make compromises that were bitterly opposed not only by the right-wing parties but even by some elements of the Israel Defense Forces and the Labor Party, during and immediately after the War of Independence. Indeed, the partition of Palestine as envisioned in the United Nations resolution in 1947 — and embraced by Ben-Gurion — was a two-state solution. Yet Segev insists that "[t]he legacy he left his successors on security matters reflected a nightmarish fantasy about the country being overrun with Palestinian Arabs." 
Any biography of Ben-Gurion, of course, is necessarily a history of Israel itself. Segev looks frankly at Ben-Gurion's role in such crucial events as the declaration of statehood and the War of Independence in 1948, the Sinai Campaign in 1956 and even the Six-Day War in 1967. By then, however, Ben-Gurion was "irrelevant, cut off from public life," as Segev writes. "At the Six-Day War victory parade, he sat in the audience, instead of on the dais, apparently so as to avoid shaking [Prime Minister Levi] Eshkol's hand." (In a 33-page letter written to Golda Meir, the "Old Man" — as Ben-Gurion came to be known — complained bitterly of the "lies," "corruption" and "idiocy" of the man who had replaced him.) And Ben-Gurion was still writing letters of condolence to the parents of fallen soldiers in the Yom Kippur War in 1973, the year of his death.
None of the readers of his previous work will be surprised that Segev refuses to write a hagiography. He reminds us that Ben-Gurion's "shrill voice and small stature" worked against him, although "the whiter his mane, the more Ben-Gurion became a symbol of proper and achievable Zionism." His judgment of Ben-Gurion is candid and nuanced, but he does not deny Ben-Gurion the stature to which he aspired from an early age. "In Ben-Gurion, Zionism and ego blended into a single entity," Segev concludes. "Every citizen was a soldier in the service of history, and Ben-Gurion was history's commander." -- Jonathan Kirsch, attorney and author, book editor of the Jewish Journal; retrieved from: https://jewishjournal.com/culture/books/303998/author-goes-beyond-the-myth-of-david-ben-gurion-in-new-book/