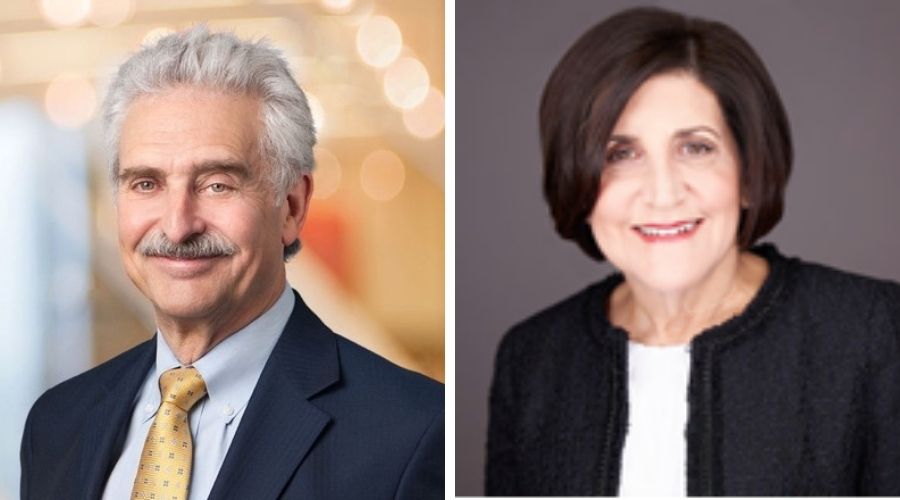 LOS ANGELES – The Board of Advisors of the Ziegler School of Rabbinic Studies at American Jewish University announced today that Board Chair, Norman Levine, will serve an additional two years, through June 2023. The Board also announced that Debbi Kaner Goldich will be appointed as Vice Chair, effective July 1, and will assume the position of Board Chair upon the completion of Mr. Levine's term.
The Ziegler School of Rabbinic Studies trains the rabbis who lead and re-invent Jewish institutions for every stage of life and strengthen Jewish living across communities.
Norman Levine grew up in a Conservative Jewish home in Cleveland, Ohio.  He attended the University of Pennsylvania and Stanford University Law School.  Following law school, Norman joined the Los Angeles law firm Greenberg Glusker Fields Claman & Machtinger LLP, where he is a member of the commercial litigation department.  He has served on the law firm's Management Committee since 1991 and was Managing Partner of the firm from 1998-2011. 
Norman has held a variety of positions in community organizations.  He is a long-time member of Valley Beth Shalom Synagogue in Encino, California, and served as its President 2012-2014.  In addition to Chairing the Ziegler School's Advisory Board, he serves on the Board of AJU and as co-chair of its Nominating and Governance Committee. 
Norman and his wife Dr. Barbara Mack live in Santa Monica.  Barbara is a retired psychologist and portrait photographer.  She photographed the speakers at the AJU's Speaker Series in Universal City, some of which are on display at the University.  They have four children and five grandchildren. 
Debbi Kaner Goldich was born in Boston, Massachusetts and moved to the Philadelphia suburbs shortly after college graduation. She has an undergraduate, graduate, and post graduate degree in Pediatric Nursing and practiced for 35 years before retiring. Debbi has been active in Jewish communal service since high school when she was USY chapter president and NERUSY Region Secretary. She became active in Women's League for Conservative Judaism over 40 years ago and has served as International Vice President, International Torah Fund Chair, Consultant among many other positions and now leads as the International President of Women's League for Conservative Judaism. 
As well as serving as WLCJ President, and a member of the Board of Advisors to the Ziegler School of Rabbinic Studies, Debbi serves on the Board of Trustees of the Jewish Theological Seminary, the Executive Committee of Neve Hanna, the Executive Committee of Mercaz, the Conference of Presidents of Major American Organizations, WLCJ representative to the Jewish Council for Public Affairs (JCPA), and her synagogue ritual committee. 
Debbi shares her time between Pennsylvania and Arizona and is an active member of a synagogue on each coast. She and her husband Bob have three sons, two daughters who came to them through love, and two grandchildren.
About AJU: American Jewish University (AJU) is a thriving center of resources and talent that serves the Los Angeles community of the twenty-first century. AJU equips students, faculty, campers, and learners of all ages with the tools to create the ideas, build the structures, and develop the programs to advance Jewish wisdom and elevate our world. For more information, visit www.aju.edu.   
Media Contact
Michelle Starkman, Vice President of Communications: michelle.starkman

aju.edu
                                             # # #

Download PDF
Contact Communications
Michelle Starkman, M.A., MBA
Vice President, Communications
michelle.starkman

aju.edu
(310) 440-1526