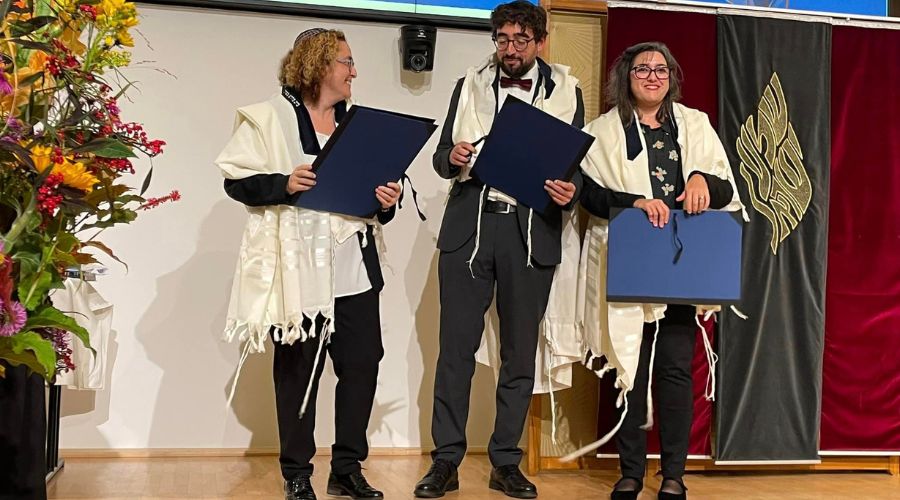 On October 23, 2022, The Zacharias Frankel College in Germany ordained three rabbis – Ann Gaëlle Attias, Andrés Bruckner, and Irene Muzas Calpe into the Conservative Movement Rabbinate. Associate Dean of both the Ziegler School of Rabbinic Studies and the Zacharias Frankel College, Rabbi Cheryl Peretz, attended the ordination and spoke to the ordinands, their families, friends, and colleagues of the importance of celebrating the flourishing Masorti movement. Each new rabbi brings something unique to the movement and this diversity, "helps each one of us get to this place in this moment together and for the enrichment it offers our collective." Rabbi Peretz also conferred honorary doctorates on behalf of AJU to Rabbis Joel Rembaum and Harvey Meirovich.
Ziegler Dean Rabbi Bradley Shavit Artson spoke via video message to the ordinands offering a few words of inspiration, "while this has been a year of chaos, it's offered a unique opportunity to train a new generation of rabbis for Europe who will continue to energize and vitalize the Jewish community in Germany and beyond. Mazal Tov, your best days lie ahead of you."
Each of the ordinands spoke and shared what it means to become a rabbi, and how they look forward to their new adventure into the rabbinate. American Jewish University congratulates all the ordinands and welcomes them to the rabbinate.
The event was livestreamed, Rabbinical Ordination of Zacharias Frankel College 2022 (Potsdam).
Contact Communications
Michelle Starkman, M.A., MBA
Vice President, Communications
michelle.starkman

aju.edu
(310) 440-1526
For urgent media inquiries or reporters on deadline, please contact us at:
(310) 571-8264 or
(310) 739-9489