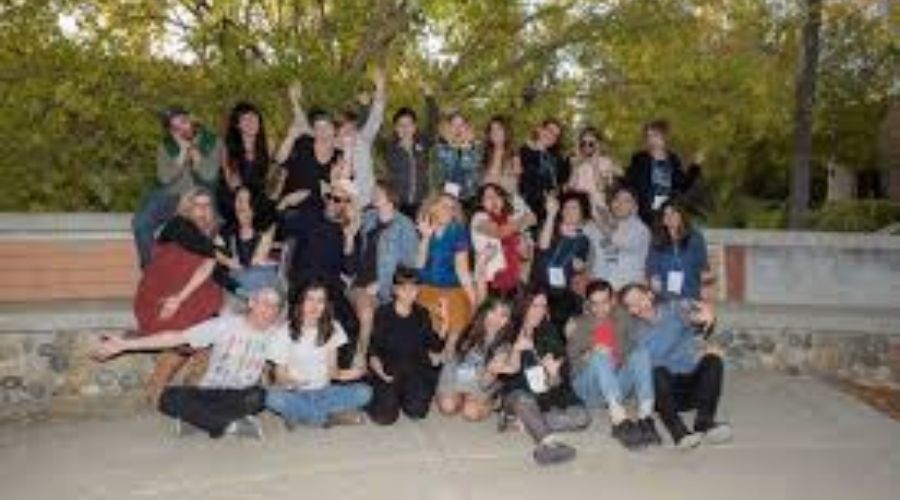 As one participant led the other to an improvised, yet instinctively synchronized, modern dance throughout a site-specific installation at the historical House of the Book, nestled in AJU's Brandeis-Bardin Campus, a group of musicians and visual artists activated the massive brutalist rotunda with a mixture of sounds: of piano, guitars, ukulele, sound box, rap beats and opera singing. This jam session of vocal and physical movements culminated an experiential evening, which began with a workshop by artist Dan Levenson: whose new exhibition on site is the first to be shown there in many years. To launch his project, Levenson invited the artists to take part in and experiment with a drawing method developed at the SKZ, a Swiss art academy of his own invention. Earlier that day, a group of 23 multidisciplinary emerging artists met for the first time, joining forces to think together over the course of three days what it means to be an Angeleno Jewish practitioner in 2017; what it means to finally find a community of visionaries and creatives in a sprawling urban arena; and, crucially, how can they sustain these relationships and translate them into collaborations.
Organized in collaboration with the incredible non-profit Asylum Arts, the second iteration of Reciprocity: LA Artist Retreat created a safe space, a platform for open and committed explorations of Jewish identity, values and ideas, as well as their intersections with contemporary, thought-provoking work.
The artists, all living and working in Los Angeles, did not know one another prior to the retreat. Between the conference center, the rolling hills, archery sessions and some close conversations with horses, the artists generously shared their skills, experience and conflicts, realizing what they share and how they differ from one another. There was singing, goat feeding, and a sense of playfulness that paved the way to honest conversations that could not have happened anywhere else.
Taking place November 12-14, 2017, the retreat was intended as an intensive program for learning, from and with one another, while experiencing sessions led by community leaders and Jewish educators. The three days we spent together were divided into three thematic frameworks, designed to spark ideas, collaborations and conversations.
Moreover, Reciprocity aimed at empowering artists to create a sustainable network of creative allies, through open conversations and encounters that would reflect the nuances defining their work, as well as their position within the multilayered Jewish cultural sphere in LA and beyond. We can't wait to see what will come out of the new collaborations now being formed, and we've already started planning for our next adventure. More to follow!
Contact Communications
Michelle Starkman, M.A., MBA
Vice President, Communications
michelle.starkman

aju.edu
(310) 440-1526