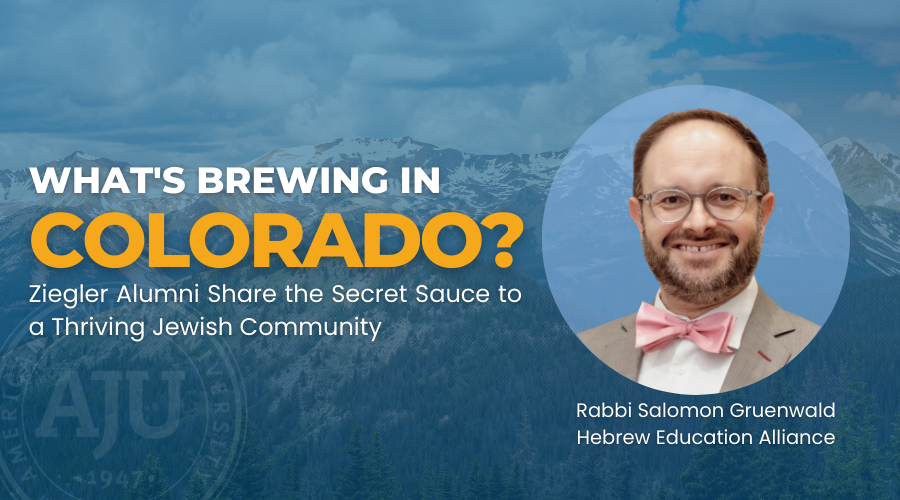 There are seven Ziegler Alumni in the Denver Metro area, and the three conservative synagogues in the state are all led by Ziegler Rabbis. AJU sat down with Rabbi Salomon Gruenwald, the Senior Rabbi at the Hebrew Education Alliance in Denver to tell us about the impact that Ziegler is making in Colorado.
AJU: What's so special about the Denver/Boulder Jewish community? With around 100,000 Jews living in the Denver Metro area, what is the "secret sauce" that keeps your congregants engaged in the conservative movement?
Rabbi Gruenwald: The history of Jews in Colorado is fascinating. Many families here trace their roots to late 1800s when Jews followed the gold rush and the early 20th century, when Jewish people came to Denver seeking treatment for tuberculosis. But the vast majority of Jews in Colorado today are transplants from other parts of the country. Like the general population, they've come here from all over the country seeking quality of life and professional opportunities. I don't know about "secret sauce," but folks who come to Denver are often drawn to the outdoor lifestyle – skiing, hiking, biking, etc. Denver definitely reflects the independent culture of the American west. I think what they find in our Conservative Movement congregations is a balance of tradition and modern values.
AJU: Why did you decide to live/work in Colorado?
Rabbi Gruenwald: I came to Denver right out of the Ziegler School. I'm still in my first pulpit since ordination. My wife, Melanie, and I had no prior connection to Denver, but when we visited for my interview at HEA, we fell in love with the people and the culture of Colorado. Denver is notoriously sunny and the people reflect that too. HEA is a warm, vibrant community that embraced me and my family, allowing me to flourish personally and professionally. When our son, Koby, fell ill with brain cancer in 2016, the congregation – and, indeed, the Denver Jewish community – rallied to support us. I'm also very grateful to Rabbi Artson and Rabbi Peretz, who both reached out and visited us during that time. After Koby died in January of 2018, my family and I decided we wanted to stay in Denver, where Koby is buried. I was fortunate that the congregation also wanted me to stay, and I renewed my contract around that time. Then, in 2021, during the pandemic, the Senior Rabbi, Bruce Dollin, announced his retirement. I was thrilled when HEA offered me the position, which I assumed in July of this year. All-in-all I have been at HEA for 14 years and I am looking forward to many more good years ahead.
AJU: What or who inspired your calling to the rabbinate?
Rabbi Gruenwald: After college I pursued a Ph.D. in anthropology and women's studies and worked on a dissertation about religiously motivated violence against women. But I became disillusioned with academia and left for a job doing grant-making at the Jewish Community Foundation in Los Angeles. It was during that time that I met Rabbi Brad Artson, who invited me to join an informal study group he had formed. Over the course of a summer, we read Maimonides' Guide of the Perplexed together. That was my introduction to Jewish philosophy and to Rabbi Artson, and I fell in love with both. He became a friend and a mentor, and he encouraged me to apply to the Ziegler School. The decision to become a rabbi changed my life and gave me this blessed career. I love my work. I'm passionate about helping people flourish with the wisdom and practice of Judaism. That's what I got from my experience at AJU.
AJU: What does the future hold for you?
Rabbi Gruenwald: I recently became the senior rabbi of my congregation, after serving as the associate rabbi for 14 years. I'm thrilled to have been joined by Rabbi Sarah Shulman, also a Ziegler School grad. Rabbi Shulman came to Denver as an experienced rabbi, having served as the founding director of Camp Ramah in Northern California. She is a terrific rabbinic partner and we're having a lot of fun together leading the congregation into the future. I think we both share a passion for serving people and meeting Jews where they are. I think these are values that were instilled in us at AJU. In this post-pandemic world, I believe that religion can play an important role in healing our individual souls and the ideological differences that divide our world. Religion in the 21st century must commit to a spirit of service to others and the common good. Our spiritual practices – such as communal prayer – can cultivate in us empathy so that we can connect with other people with grace and kindness. By modelling warm, inclusive and safe spaces, spiritual communities can be incubators for the habits and dispositions of citizenship and promote the practices of a democratic humanistic society.
To learn more about the Ziegler School of Rabbinic Studies, please visit www.aju.edu/ziegler and like us on Facebook.
Contact Communications
Michelle Starkman, M.A., MBA
Vice President, Communications
michelle.starkman

aju.edu
(310) 440-1526