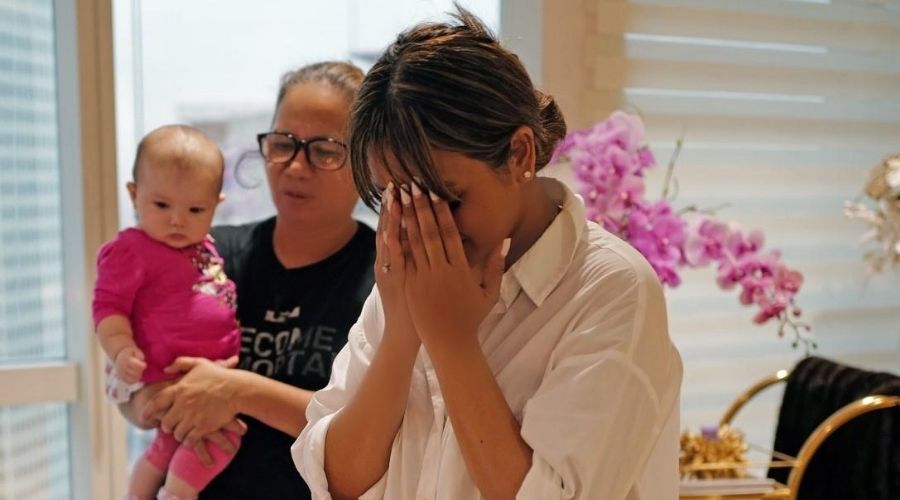 It was inside a small restaurant in central Manila that Sabrina first met her future partner. Seated at the bar was a man in a blue sportscoat, visiting from the United States and chatting with the bartender in English. He bravely approached Sabrina to introduce himself while she was seated with her friends, and the two quickly struck up a conversation.  
A week later, Sabrina met Fred for a date at a local coffeeshop. After hours of talking they had begun to lay the framework for a deep bond, solidified by their mutual love of family and dedication to their communities. This was a connection they shared, even though they were of different faiths. Fred, originally from Mexico City, was born and raised Jewish. Sabrina, originally from a small town in the Philippines, was born and raised Catholic. Though based in Los Angeles and practicing law at the time, Fred was building a business in Manila and visited there often.
After a few years together with Sabrina, Fred moved to Manila full time. The two began to discuss the prospect of starting a family. Sabrina recognized that Fred's tradition was dear to him, and she decided she wanted to honor this. She began to learn more from him about Jewish thought, values, and customs. Feeling connected to Jewish teachings, holidays, and the deep sense of community, Sabrina decided that she wanted to convert to Judaism. Together, they decided to raise their children Jewish.
"I knew already that we wanted our kids to be raised Jewish, and I knew that without a doubt," Sabrina said. "I said to myself, 'this is what I want, and I want to be Jewish, so I will convert to Judaism with all of my heart.'"
Finding someone in the Philippines to guide Sabrina on the path to conversion proved to be difficult. After an arduous trial-and-error search, Fred and Sabrina discovered the Miller Introduction to Judaism program at American Jewish University (AJU), which offers unique courses tailored to Jews-by-choice, interfaith couples, and those at the beginning of their Jewish journeys.
Sabrina and Fred were able to enroll in an online course of study at a time that worked out with the 15-hour difference between Manila and Los Angeles, with Rabbi Adam Greenwald—AJU Vice President of Jewish Engagement and Director of the Maas Center for Jewish Journeys—who brought the material to life. Soon, Sabrina and Fred would count down the days between the online sessions, eager to engage with the teachings and the other couples in the program.
"Rabbi Greenwald has transformed the way Sabrina and I see our Jewish journeys," said Fred. "The Miller Intro to Judaism program has deepened our connection to Judaism and given us access to Jewish practice. Rabbi Greenwald's courses have become something we truly look forward to every week."
With two young children today, the couple says that when they resume in-person activities, like attending services at one of Manila's synagogues near the city's center, they know they will be equipped with the tools to make them feel adjusted and welcome. 
"I feel embraced by the Miller Intro to Judaism program and its virtual global community," said Sabrina. "This program has given us the ability and the space to explore Jewish tradition and wisdom—and for this I am grateful."
About Miller Intro to Judaism: The Miller Introduction to Judaism program is one of the country's most respected courses of study offering those seeking to convert to Judaism, interfaith couples, and all those who want to find their home in the Jewish community a platform to access Jewish wisdom and practice.
Contact Communications
Michelle Starkman, M.A., MBA
Vice President, Communications
michelle.starkman

aju.edu
(310) 440-1526