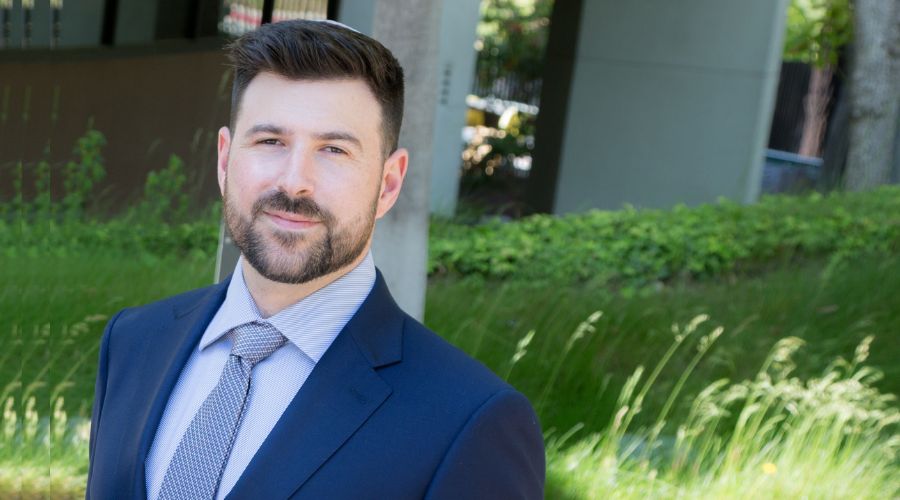 Press Release
Rabbi Samuel Rosenbaum Named Assistant Dean of AJU's Ziegler School of Rabbinic Studies
The Ziegler School Continues to Strengthen its Outreach and Connection Efforts
LOS ANGELES – Today, American Jewish University's Ziegler School of Rabbinic Studies announced the appointment of Rabbi Samuel Rosenbaum as Assistant Dean, underscoring Ziegler's dedication to expanding its outreach and fostering stronger connections within the Jewish community. This appointment marks an exciting milestone for the Ziegler School, with Rosenbaum engaging broader audiences through a variety of local and national speaking opportunities.
Rosenbaum is especially equipped to lead the Ziegler School's outreach, with a profound understanding of engaging and connecting Jews to one another. He previously co-founded The Well Atlanta, a vibrant monthly Kabbalat Shabbat service designed for young professionals, and has gained recognition for his inspiring performances of original Jewish songs on a national and international scale. During his role as a resident of Moishe House, where he curated and organized over 50 annual programs, Rosenbaum continued to hone his skills in creating meaningful experiences that unite Jewish communities.
As Assistant Dean, Rosenbaum will leverage his unique talents to identify the next generation of rabbis by participating in speaking engagements at conferences, summer camps, college campuses, synagogues, and other venues. Rabbi Bradley Shavit Artson, Roslyn Goldstine Dean's Chair of the Ziegler School, shared, "with Rabbi Rosenbaum on the team, we are positioned to remain a thriving center of Torah and rabbinic training, attracting dynamic and passionate future rabbis to our outstanding Ziegler community."
The Ziegler School is committed to fulfilling the world's need for visionary rabbis by providing a comprehensive education that integrates academic rigor, spiritual growth, and communal responsibility. With a dedicated Assistant Dean leading the way, the school's year-round recruitment efforts will be strengthened. Rabbi Cheryl Peretz, Associate Dean, shared, "Rabbi Rosenbaum's genuine passion for our school and community is truly inspiring. We are thrilled to welcome him to our staff and collaborate on enriching our admissions and recruitment efforts, while continuing to foster a caring and warm student community."
The Ziegler School has recently redesigned its curriculum, created a change in tuition structure, and is relocating to a new campus, all in accordance with the recommendations of the blue-ribbon commission.
To learn more about the Ziegler School of Rabbinic Studies, a program of the American Jewish University, and its commitment to training future leaders of Conservative Judaism, please visit aju.edu/ziegler.
***
About AJU: American Jewish University (AJU) is a thriving center of resources and talent that advances the Jewish journeys of individuals, organizations, and our community through excellence in scholarship, teaching, engaged conversation, and outreach. AJU equips students, faculty, campers, and learners of all ages with the tools to create the ideas, build the structures, and develop the programs to advance Jewish wisdom and elevate our world. For more information, visit www.aju.edu.
Contact Communications
Michelle Starkman, M.A., MBA
Vice President, Communications
michelle.starkman

aju.edu
(310) 440-1526