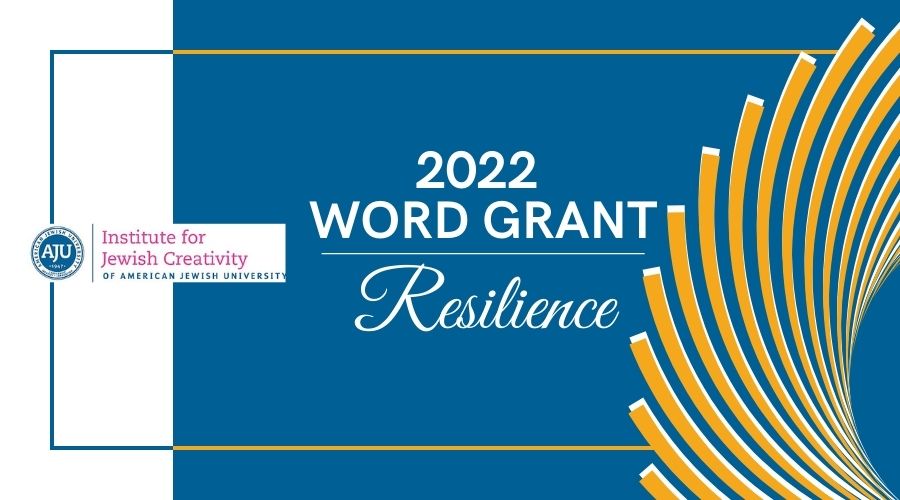 Press Release
Media Contact
Michelle Starkman
michelle.starkman [at] aju.edu
Los Angeles, CA – Today, the Institute for Jewish Creativity (IJC) of American Jewish University (AJU) announced the grantees of the Word 2022: Bruce Geller Memorial Prize, an annual award designed to support projects that explore the meeting points of Jewish ideas, ideals, contemporary practice, and texts.
Over the past few years, the IJC has had both the opportunity of bridging geographical and social differences and the challenge of finding tolerance toward singular and non-conforming voices and identities.
This year's theme is RESILIENCE and the IJC is pleased to support multidisciplinary projects that approach Jewish culture from a variety of perspectives. Selected by a panel of Los Angeles-based art professionals, seven artists have been awarded grants totaling $7,000 in support of the creation and presentation of their work.
"Overcoming a tumultuous couple of years and dealing with socio-political challenges locally and nationally has shown our resilient capabilities as individuals and as a society, even where we didn't know existed," said Sagi Refael, curator for this year's Word Grant. "This year's grants were awarded to creators that inspire, confront, remind, and reinforce the belief in humankind, in historical perspectives, and in the possibility of acceptance and healing. The IJC is a resource and a hub for artists, organizations, and audiences in Los Angeles and beyond, and we look forward to sharing these insightful projects with local, national, and international communities."
The winners will share their projects with the community at American Jewish University's Familian Campus on Sunday, August 21, 2022. The event is free and open to the public with advanced registration. For more information and to register, visit aju.edu/wordgrant2022exhibit.
Awarded Artists:
Daniel Rothman and Halina Kliem, The Ballona Project
Casey Adler, Mort Rye, The History Guy
Tom Teicholz, Lucky: A True Story of Jewish Resistance, before, during and after the Holocaust
Yoni Arbel, Link in the Chain
Vanya Assuied, Ubuntu B'yachad
Michael Goldstein, The Girls, or, A Letter From The Ghetto
Kylie Lobell, Jewess: A Memoir
# # #
The Institute for Jewish Creativity (IJC) is a proud project of American Jewish University (AJU). The IJC cultivates a network of local Jewish artists, and supports a contemporary, vibrant, Jewish cultural landscape in Los Angeles and beyond, in the spirit of AJU's mission to elevate individuals and communities through Jewish wisdom and creativity.
Word: Bruce Geller Memorial Prize is made possible through the legacy of Bruce and Jeannette Geller. Bruce and Jeannette Geller were influential Los Angeles residents whose passion for creativity and the pursuit of art defined their lives. Bruce Geller was an award-winning Hollywood screenwriter most famous for creating, directing and producing the highly successful TV show, Mission Impossible.
Contact Communications
Michelle Starkman, M.A., MBA
Vice President, Communications
michelle.starkman

aju.edu
(310) 440-1526
For urgent media inquiries or reporters on deadline, please contact us at:
(310) 571-8264 or
(310) 739-9489