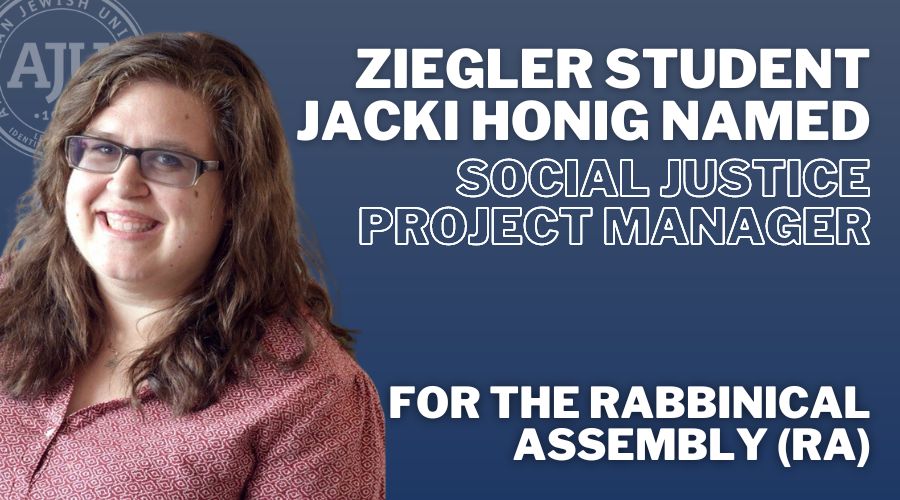 Jacki Honig, a current student at the Ziegler School of Rabbinic Studies, has taken on the role of Social Justice Project Manager for the Rabbinical Assembly (RA). In this capacity, she collaborates with the Social Justice Commission (SJC) of the Conservative/Masorti movement to advance social justice initiatives within the movement. Her responsibilities also include connecting rabbis, cantors and lay leaders who share an interest in social justice work.
Her involvement in social justice dates to her undergraduate years, during which she contributed to the Office of Civic Engagement and Diversity on her college campus. Driven by her Jewish values, she is dedicated to effecting positive change in the world. Honig firmly believes that the Conservative movement possesses a distinctive role in advocating for social justice causes.
Highlighting the historical commitment of the Conservative movement to social justice, Honig emphasizes the responsibility to use its platform to address injustice and work towards a more equitable world. The SJC, with her support, engages in a variety of initiatives. Additionally, the commission strives to foster inclusivity and warmth for all Jews within the movement.
Honig is enthusiastic about the potential of the Conservative movement to emerge as a trailblazer in the realm of social justice advocacy. She envisions the movement assuming a leadership position in championing justice on a global scale. Overcoming the challenge of reaching a consensus on multifaceted social justice matters is one of the movement's primary obstacles. Nonetheless, Honig underscores the significance of persistently pursuing consensus, even when faced with difficulties.
Her involvement with the SJC has bolstered her connection to the Conservative movement and the broader Jewish community. It has deepened her understanding of social justice issues and honed her capacity for effecting change. Honig attributes her work with the SJC to a greater sense of compassion and a stronger commitment to her role as a rabbi. "I hope that the Conservative movement can continue to be a voice for justice in the world," Honig says. "We have a lot to offer, and I believe that we can make a real difference."
As a passionate advocate for social justice, Honig is unwavering in her dedication to leveraging her Jewish values to enact positive change. Her endeavors serve as an inspiration to others, and she is rapidly ascending within the ranks of the Conservative movement. Her ordination is anticipated in 2024.
For more information about the Ziegler School of Rabbinic Studies, please visit www.aju.edu/ziegler.
Contact Communications
Michelle Starkman, M.A., MBA
Vice President, Communications
michelle.starkman

aju.edu
(310) 440-1526