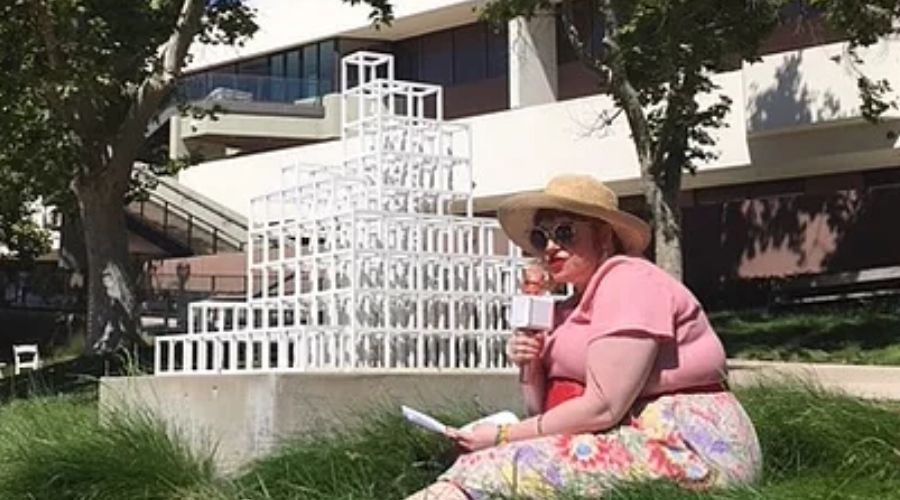 On Sunday, June 10th, IJC writers and artists Christy Roberts Berkowitz, Rachel Kann, Alexander Nemser, and Deenah Vollmer participated in Conversations in Sculpture at American Jewish University. All were alumni of the 2017 Reciprocity: LA Artists Retreat, held in partnership with Asylum Arts.
Guests gathered to enjoy this magical afternoon of literary engagement with the incredible works in the Sondra and Marvin Smalley Sculpture Garden, one of LA's best kept secrets. 
Christy Roberts Berkowitz communed with the ghost of Sol LeWitt and his work Spiral12345678, discussing conceptual works, privilege and having others produce your piece for you under the guise of collectivism; Rachel Kann connected deeply with Anthony Caro's The Bather and asked questions of Mermaid Esther; Deenah Vollmer stood by Action Causes More Trouble Than Words and begged its creator, Jenny Holzer, to attend the piece's dedication party; and Alexander Nemser pondered Aldo Casavano's Juncture, Jewish wisdom and jellybeans.
Thank you to Christy, Rachel, Alexander, and Deenah for an incredible afternoon!
Contact Communications
Michelle Starkman, M.A., MBA
Vice President, Communications
michelle.starkman

aju.edu
(310) 440-1526
For urgent media inquiries or reporters on deadline, please contact us at:
(310) 571-8264 or
(310) 739-9489