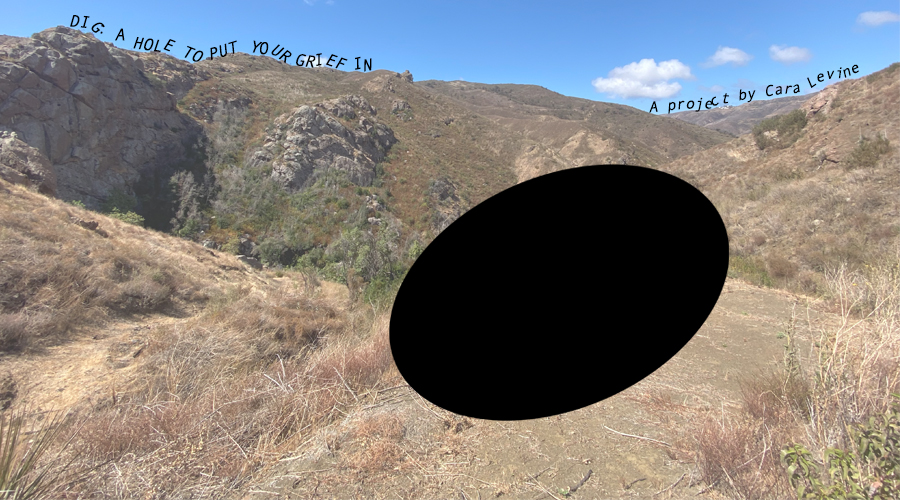 Artists: Adrienne Adar, Dorit Cypis, Faye Driscoll, Ekaette Ekong, Sonia Guiñansaca, Asher Hartman, Michele Jaquis, Cara Levine, Hannah Rubin
August 14 - 21, 2021
Shalom Institute, Malibu CA
DIG: A Hole to Put Your Grief In, a project by Cara Levine, invites the audience to experience a container for their grief and mourning following a year of collective loss. The initiative was created as a collaborative project supported by AJU's Institute for Jewish Creativity (IJC), following the online Reciprocity Retreat, held digitally in June 2020 in partnership with Asylum Arts.
During a week of activities at the Shalom Institute, nestled in the breathtaking Malibu mountains, Levine will dig a large-scale hole in the ground, inviting various communities and audience members to join her. Artists and community leaders will offer a schedule of activities in and around the site, ranging from collective drawings to live performances, audio recordings and community rituals.
The community is invited to join us! Please follow this link for full schedule and registration. Participation is at no cost, but requires registration in advance.
The weeklong duration reflects the symbolic period of shiva, or seven days of mourning in the Jewish tradition. Culminating on the second Saturday, participants will fill the hole with water and perform a ritual cleansing, or mikveh, before refilling the hole with its original dirt, and planting native seeds to complete the cycle for renewal. 
This will be a collective space to hold and process some of the grief of the year, with rituals and performances inspired by different faiths, histories, and viewpoints. As the pandemic era transforms and yet holds great uncertainties, it is important to mark this moment. While Levine continuously digs on a daily basis and invites the public to deepen the hole, she has invited artists Adrienne Adar, Dorit Cypis, Faye Driscoll, Ekaette Ekong, Sonia Guiñansca, Asher Hartman, Michele Jaquis, and Hannah Rubin to make or lead new work on site.
Alan Salazar, a local Chumash tribal leader and storyteller will launch the project with a blessing on August 14. Cantor Chayim Frenkel from Kehilat Israel Temple will perform a Havdalah service on Tuesday, August 17. The closing Day on August 21, will be marked by a group celebration and live performances.
The Shalom Institute campus was devastated by the Woolsey Fire of 2018. The leaders and community from SI welcome DIG as part of their grief process over the loss and sacred transition taking place on their land.

---
More about the artists:
Adrienne Adar is a sound artist and photographer based in Los Angeles. She creates interactive work, often incorporating living plants and technology in site-specific installations. Adar animates plants with sound, seeking to activate unexpected connections to the natural environment. Adar received her MFA from NYU/International Center of Photography and studied at the Slade School of Art, London. Her work has been shown in Los Angeles, New York, Wyoming, London, and Seoul, Korea, as well as Beijing, Shanghai, and Tianjin, China. She is a participating organizer of High Desert Test Sites in Joshua Tree, CA and a member of the Southern California Succulent Society.
www.adrienneadar.com, IG: @adrienneadar
Dorit Cypis has explored history, identity, and social relations since the 1980's. At the core of her practice is exploration of the artist's role as creator, educator, mediator, and community-builder. Her current platform PeoplesLab, guided by the question, "Who are we to one other?", offers consulting and skills training to transform conflict into possibility.
Cypis' career covers: performance, photography, and immersive media installation; curriculum development at colleges and universities; civic programs on generative relations across conflict and differences; publication on identity and social relations. Dorit has exhibited internationally including: Whitney Museum, Musee des Beaux Art/Bruxelles, San Francisco Museum of Modern Art, Musee D'Art Contemporaire/ Montreal, Walker Art Center, Orange County Museum of Art, Los Angeles County Museum of Art, Open City Festival/Lublin, Poland, Kestner Gesellerschaft and at galleries and community centers. Other civic organizations Dorit has worked with and founded include: Mediators Beyond Borders, building local and global capacity for conflict engagement; founder, Kulture Klub Collaborative, artists and home-less youth bridging survival and inspiration to build social engagement. Among many awards are the Guggenheim Fellowship and Rauschenberg Foundation Residency, 2014. Cypis earned a Master of Fine Arts, California Institute for the Arts, and Masters of Dispute Resolution, Pepperdine University. Born in Tel Aviv, Israel, raised in Montreal, she currently lives in Los Angeles. Dorit was awarded a Word Grant by the IJC in 2019.
doritcypis.com – peopleslab.us
Faye Driscoll is a performance maker and artist who has been hailed as a "startlingly original talent" (Roslyn Sulcas, The New York Times) and whose most recent exhibition was celebrated as "experiential training in how to inhabit this unbearable new world" (Miriam Felton-Dansky). Her work has been presented nationally at the Wexner Center for the Arts, Walker Art Center, The Institute for Contemporary Art/Boston, MCA/Chicago and BAM/Brooklyn Academy of Music, and internationally at La Biennale di Venezia, Festival d'Automne à Paris, Croatian National Theatre in Zagreb, Melbourne Festival, Belfast International Arts Festival, Onassis Cultural Centre in Athens and Centro de Arte Experimental in Buenos Aires. Her first solo museum exhibition, Come On In at Walker Art Center in 2020, offered gallery-goers an experience of six distinct audio-guided choreographies. Driscoll also choreographs for plays and films, including the Broadway production of Young Jean Lee's Straight White Men, and Josephine Decker's award-winning feature film Madeline's Madeline. Since 2013 she has received many prestigious awards, including Doris Duke Artist Award, United States Artist Fellowship, Guggenheim Fellowship, and Creative Capital Award.
Ekaette Ekong is a writer, activist and Internationally renowned yoga teacher. She is the editor in chief of WOKE. Magazine, a periodical focused on bringing wellness, yoga and social change to diverse communities.
Sonia Guiñansaca is an international acclaimed poet, cultural organizer, and social justice activist. As a writer and performer, they create narrative poems and essays on migration, queerness, feminism, climate change, and nostalgia. Often collaborating with filmmakers and visual artists. They emerged as a national leader in the migrant artistic and political communities where they coordinated and participated in groundbreaking civil disobedience. Guiñansaca co-founded some of the largest undocumented organizations in the U.S, including some of the first artistic projects by and for undocumented writers and artists. Since then, Sonia has worked for over a decade in both policy and cultural efforts building equitable infrastructures for migrant artists. Their migration and cultural equity work have also taken them to London and Mexico City to advise on migrant policy and arts programming. They are now a consultant to national cultural institutions, philanthropic foundations, and multi-media organizations on cultural activations, artist development, and content production. They self-published their debut chapbook Nostalgia and Borders in 2016. They are the co-editor of the forthcoming anthology Somewhere We Are Human (Fall 2021 HarperCollins).  Guiñansaca is launching Alegria Press, a publishing house for Queer, Trans, Non- binary, and migrant undocumented writers in Spring 2021. 
soniaguinansaca.com, IG: @TheSoniaG, Twitter: @TheSoniaG
Asher Hartman is a transgender writer, director and maker of live performances. His works, which combine strategies of theater and performance art, grapple with social and political issues in an era of chronic crisis. He is also a professional intuitive practitioner working in Los Angeles.
https://www.asherhartmanintuitive.com/
In his 35 years as cantor of Kehillat Israel, Cantor Chayim Frenkel has built an impressive career marked by a series of exceptional musical accomplishments. Blessed with a rich, warm tenor voice and an ability to nurture others' talents, Chayim has become a driving force in the world of modern Jewish music and cantorial practice, following in the very large footsteps of his late father, Hazzan Uri Frenkel. Cantor Frenkel has commissioned and produced numerous recordings, including "Nishmat Tzedek – A Righteous Soul," an orchestral and choral suite in honor of his brother Tzvi, of blessed memory. Chayim's dear friend, the acclaimed Cantor Meir Finkelstein, composed the work. The composition had its world premier at KI in 1994. Cantor Frenkel and Meir expanded their recording into a book and compact disc package as a gift of healing to those who have lost loved ones in the ongoing terrorism that plagues our world.
In 1995, Cantor Frenkel served as executive director of Cantor Finkelstein's moving oratorio, "Liberation," commemorating the liberation of the Nazi concentration camps and in loving memory of his beloved mother, Shari Frenkel, who survived the Shoa. In 1998, Cantor Frenkel served as co-chair of the Cantors Assembly's celebration in honor of the State of Israel's 50th anniversary. As part of these festivities, he performed at Carnegie Hall and produced a concert in New York's Central Park, attended by over 10,000 people. Cantor Frenkel has commissioned and produced numerous recordings and, in 2009, he launched KI tunes (kitunes.org), which offers free downloads of all the music of KI that he has produced. Chayim loves to travel, especially when leading KI family trips to Israel. Cantor Frenkel lives in Pacific Palisades with his beloved wife, Marsi and daughter Molli, while his older daughter Mandi lives in Israel.
https://www.ourki.org/who-we-are/
Michele Jaquis is an LA based artist and educator working at the intersections of conceptual art, documentary and social practice. Her work has been presented at conferences, alternative spaces, galleries and museums and film/video festivals across the US and in Australia, Canada, Ireland, England, New Zealand and South Korea. She holds an MFA in sculpture from Rhode Island School of Design, a BFA in sculpture and experimental studio with a minor in psychology from Hartford Art School, University of Hartford and is an alumni of the Institute for Jewish Creativity and Asylum Arts' Reciprocity Retreat. Jaquis is currently Associate Professor and Director of Interdisciplinary Studies and the Artist, Community Teaching Program at Otis College of Art and Design.
http://www.michelejaquis.com/, IG:@michelejaquis
Cara Levine is an artist based in Los Angeles, CA. She earned a BFA from the University of Michigan in Ann Arbor, MI (2007) and an MFA from California College of the Arts in San Francisco, CA (2012). Using sculpture, video, and socially engaged practices, she explores the intersections of the physical, metaphysical, traumatic, and illusionary.  She is the founder of This Is Not A Gun, a multidisciplinary project aiming to create awareness and activism through collective creative action. Her work has been presented in one-person, group exhibitions, and participatory events in venues around the world such as the MOCA Geffen Warehouse, Los Angeles, CA (2020); Creative Time, New York, NY (2019); The Anchorage Museum, Anchorage, AK, (2019), Tenderloin Museum, San Francisco, CA (2017); Center for Contemporary Art, Tel Aviv, Israel; Wattis Institute For Contemporary Art, San Francisco, CA (2012); and Kyoto Seika University, Kyoto, Japan (2006). Levine has participated in residency programs including Santa Fe Art Institute (2017); The Arctic Circle, International Territory of Svalbard (2017); Sedona Arts Colony, Sedona, AZ (2016); SIM Residency, Reykjavík, Iceland (2015); Anderson Ranch, Aspen, CO (2014); and Vermont Studio Center, Johnson, VT (2013). Levine is currently an associate adjunct professor in Fine Art and Foundations at Otis College of Art and Design and has worked in the disability arts community since 2011 in roles at various progressive art studios including the Exceptional Children's Foundation, Inglewood, CA and Creative Growth, Oakland, CA. She organized the first annual Self-Taught Artists Fair with Public Annex in Portland, OR in 2017.
https://www.ourki.org/who-we-are/
Hannah Rubin is a queer writer and interdisciplinary artist based in Los Angeles. Their work is curious about leaking + viscous porosities, gender, ecology, rivers, trauma, being in relation, abolition landscapes, and the geomorphologies of grief. They've exhibited and performed at MAK Center for Art and Architecture, SAIC, NOW INSTANT Image Hall, REDCAT, LA Art Book Fair, and AA/LA Gallery in Los Angeles. Their writing has been published in F Magazine, Artforum, Ghost City Review, Berkeley Poetry Review, BOAAT Magazine, and elsewhere. Currently, hannah is an assistant editor at smoke and mold and runs IN TOUCH , a clay exploration that choreographs queer connection through elemental touch.
http://www.hannahrubin.com/about-me
Alan Salazar-Puchuk Ya'ai'c is an educator, visionary, spitiual advisor of Chumash and Tatavian native american descendent. His Chumash name is Spirit Hawk and he
holds the title of "the village's fastest runner" . He is endowed with spiritual gifts of performing sacred ceremonial rites. In addition, he draws on nearly twenty years of professional experience as a preschool teacher. and as a counselor and institutional officer in the juvenile justice system. Mr. Salazar is a leading cultural resource consultant for the ventura Indian Educational Consortium. He has been   involved in numerous organizations, including The Kern County Indian Council, Candelaria American Indian Council, Chumash Maritime Association, Oakbrook Chumash Center and ANTIK - a coalition of Chumash people. He is past President of the Native American Heritage preservation council of Kern County. Alan Salazar has devoted his entire life to furthering Native American causes. Today, he is actively involved in the Maritime Cultural Resurgence -- a movement that honors Chumash masters of the tomol, the traditional plank canoe. Mr. Salazar is widely admired for his ability to balance the need for Chumash Cultural preservation and the need for modern land use development. His cultural heritage educational activities are closely integrated with his public service and scholarly interests. He is a member of the California Indian Advisory Committee of the Santa Barbara Museum of Natural History and his research on Chumash culture has been published in the Kern County Archeological Society Journal. Mr. Salazar participates in cultural and land use activities invlolving the interests of the Chumash people. he has conducted Chumash ceremonial blessings at public events, including the dedication of Point Dume Nation preserve in Malibu, a State hisoric landmark.