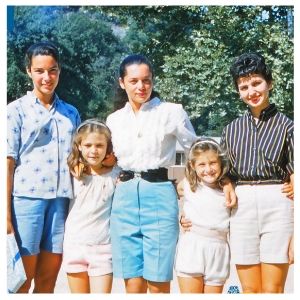 Turning down Peppertree Lane, approaching the gates to the entrance of the Brandeis-Bardin Campus, one is quickly reminded of what waits beyond the entrance gates. It's an emotional tug that links us to the memories of past summers and shared experiences. The campus, is home to Camp Alonim, Gan Alonim Day Camp, Ziering Brandeis Collegiate Institute (BCI), along with so many other year round programs, provides an unparalleled Jewish setting that welcomes everyone and judges no one.
Opening day of Session 2 for Camp Alonim included 324 campers and 66 CITs.  Across grassy fields, amid the backdrop of the peppertrees, these campers could be seen running towards one another, embracing one another as they rekindled their friendships. The younger campers, some nervous and others shy were equally excited to learn of their bunk assignments, and quickly immersed themselves in the opening rituals of camp.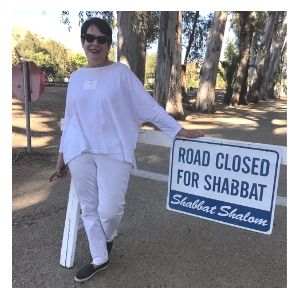 While at camp, we were fortunate enough to catch up with many volunteers on opening day - camp moms and dads who were once themselves Alonimers, Advisory Board members, past alums, and other community members who were there not only to welcome campers, but to lend a hand, as checking in hundreds of kids takes organization, patience, and great care.  In the mix of the dedicated volunteers, was Harriet Scharf, celebrating her 61st summer at camp.  Harriet is the 3rd of 5 generations of family members involved with Alonim and the Brandeis Bardin Campus.  Her parents and grandparents were dedicated to Camp Alonim and she herself attended camp for the very first time at the age of 7 in 1958, along with her older sister Andrea, who was 8 at the time. Both Harriet and Andrea's children were once campers, and their brother Steven's grandchildren currently attend camp. This is all thanks to Harriet, with her devotion and connection to camp, keeping everyone coming back.  On opening day, Harriet was busy helping where needed – checking kids in, completing health checks or simply giving hugs.  When we asked Harriet where she really felt the magic of camp, she told us it was during Shabbat.
In the mix of the dedicated volunteers, was Harriet Scharf, celebrating her 61st summer at camp.
This summer, Camp Alonim is expected to welcome over 840 overnight campers each one ready to experience the joys of their upcoming camp adventure.  And let us not forget, Gan Alonim Day Camp welcoming over 400 children this summer. On any given day, there are up to 170 children, ages 4 - 11 in the day camp. Day campers experience the same connections and deep friendships as the overnight campers and have access to many of the same activities, including but not limited to the alpine tower, archery, and horseback riding.
All Alonimers learn the building blocks of citizenship and community: listening, tolerance, speaking up, compromise, and including everyone. They also are cared for by remarkably dedicated staff, all of them filled with the purpose of positively impacting the kids at Alonim. 
We know that our Alonimers will all have a great summer and hope that you do too! 
To learn more about Alonim, be sure to visit us online at www.alonim.com.
Contact Communications
Michelle Starkman, M.A., MBA
Vice President, Communications
michelle.starkman

aju.edu
(310) 440-1526