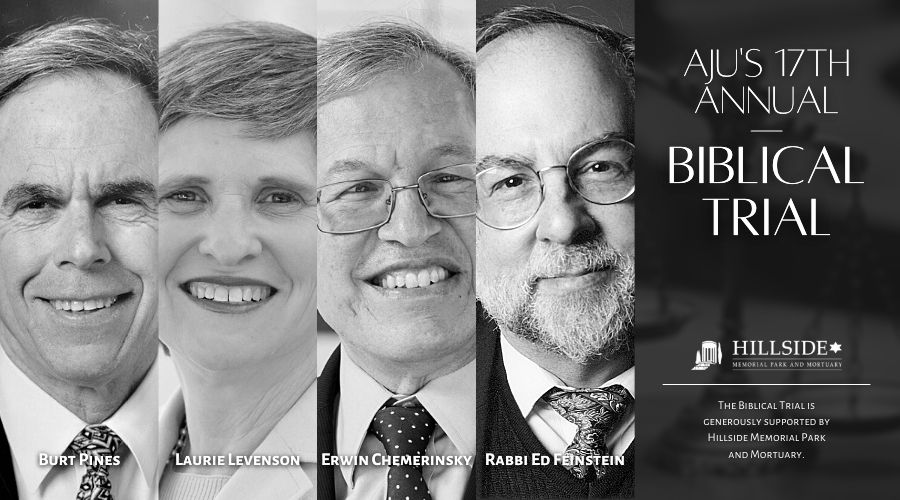 Esteemed Attorneys to Argue Mock Case During American Jewish University's 17th Annual Biblical Trial: Shinar City Council v. Babel Builders - Hosted Online 
Thursday, March 18 at 1 PM PST/ 4PM EST  |  Register online at www.aju.edu/biblicaltrial
American Jewish University will host its 17th Biblical Trial—an annual tradition—in which esteemed attorneys will represent biblical figures in a mock trial. This year's virtual Biblical Trial is available for the public to view on AJU's B'Yachad Together online platform. Registration is currently open.
In this year's Biblical Trial, the Shinar City Council brings a suit against the builders of the Tower of Babel. Loyola Law School professor Laurie Levenson will represent the Shinar City Council, arguing that God was right to punish the unruly group that built the Tower of Babel. U.C. Berkeley Law School Dean Erwin Chemerinsky will serve as the defense counsel, proclaiming the Babel builders' innocence. The Honorable Burt Pines—former L.A. County Superior Court judge—will preside over the court proceedings, and Valley Beth Shalom Senior Rabbi Ed Feinstein will serve as moderator.
Erwin Chemerinsky is Dean and Jesse H. Choper Distinguished Professor of Law, University of California, Berkeley School of Law. Prior to assuming this position, he was the founding dean of the University of California, Irvine School of Law, and a professor at Duke Law School, University of Southern California Law School, and DePaul Law School. 
Laurie L. Levenson is a Professor of Law and David W. Burcham Chair in Ethical Advocacy at Loyola Law School. She is also the founder of Loyola's Project for the Innocent. Professor Levenson teaches criminal law, criminal procedure, ethics, trial advocacy and evidence and has authored numerous books and articles on criminal law. She has appeared on CNN, ABC, NBC, CBS, and NPR.
Rabbi Ed Feinstein is senior rabbi of Valley Beth Shalom in Encino, California. He has served on the faculty of the Ziegler Rabbinical School of Rabbinic Studies at American Jewish University since 1990 and is an instructor for the Wexner Heritage Program, lecturing widely across the United States.
Judge Burt Pines served on the Los Angeles County Superior Court from 2003 until 2011. His prior legal career included service as the City Attorney of Los Angeles between 1973 and 1981; Assistant United States Attorney, Criminal Division (1964-67); and Judicial Appointments Secretary to Governor Gray Davis (1999-2003).
Contact Communications
Michelle Starkman, M.A., MBA
Vice President, Communications
michelle.starkman

aju.edu
(310) 440-1526