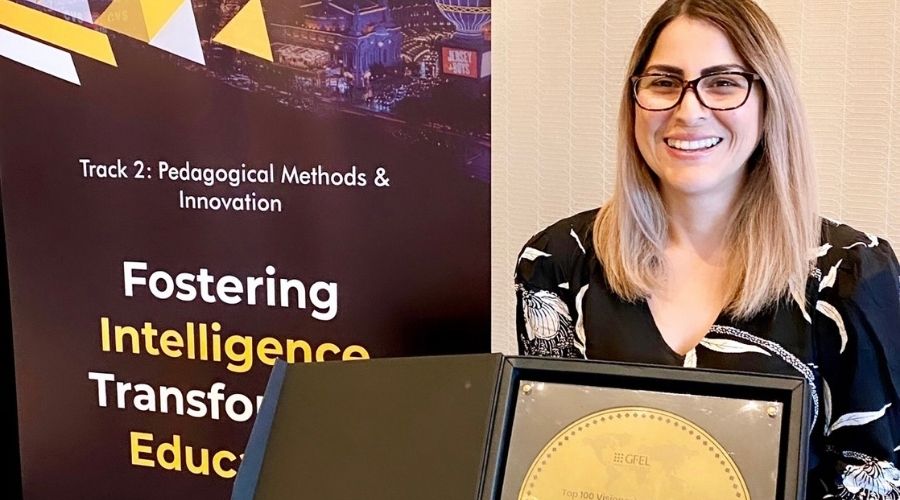 Danielle Sassman, Senior Director of Assessment, Institutional Research and Registrar Services at American Jewish University (AJU) was named one of the Top 100 Visionaries in Education by the Global Forum for Education and Learning (GEFL). The three-day conference convened this year in Las Vegas from June 23-25, where international leaders in the education sector came together on a common platform to lead, regulate, empower, and improve the means of education transmittal.
Danielle, who is currently a candidate at the University of Southern California in pursuit of a Doctorate of Education (Ed.D) in Organizational Change and Leadership, specializes in learning design and technology, online education, and learning and motivation. Her awarded research focuses on improving online learning for students in higher education, including offering better student support services, increasing student engagement, and creating and maintaining a sense of community in virtual spaces.
As the education sector has seen a considerable shift from in-person to online learning in 2020 and 2021, education leaders and teachers across the world must invest in creating sustainable programs that engage students. Danielle's research highlights the importance of online student support resources and creating a sense of community where both teachers and students are able connect with one another.  
"Providing students with the opportunity to interact with each other outside of the virtual classroom helps them create personal connections, which leads to better engagement during class," says Danielle. "It's vital that leaders within educational organizations devote resources and implement programs that help foster community and maintain personal connections.
Additionally, teachers can foster community and promote engagement through in-class breakout group projects and reflection activities, allowing students to connect with their colleagues while still contributing to the overall course session and participation.
The international conference offered perspectives from across the globe, where education leaders everywhere from Dubai to Mexico gave insight into how their countries are managing their education programs and adjusting to the needs of students today.
The biggest takeaways from the conference: creating greater accessibility, equity, and diversity in education systems.
Congratulations Danielle for this honorable award recognizing your efforts in creating a better future for students. 
Contact Communications
Michelle Starkman, M.A., MBA
Vice President, Communications
michelle.starkman
aju.edu
(310) 440-1526
For urgent media inquiries or reporters on deadline, please contact us at:
(310) 571-8264 or
(310) 739-9489