Associate Professor; Chair; Interim Chief Academic Officer; Interim Dean of the College of Arts & Science;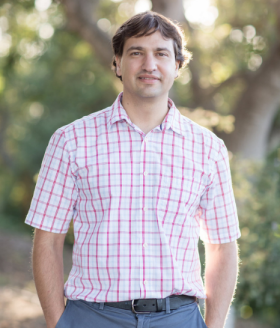 Education

PhD, Political Science, University of California Los Angeles
M.A., Political Science, University of California Los Angeles
B.A., Political Science, Duke University
Bio

Dr. Totten is an Associate Professor and Chair of the Politics and Global Studies Department in the College of Arts & Sciences at American Jewish University.  He is also serving as the Interim Chief Academic Officer and Dean of the College of Arts & Sciences.   

He has previously held positions as a Visiting Assistant International Relations Professor at UCSB, a Political Science Lecturer at UCLA, and a pre-doctoral fellow at the Center for Comparative Immigration Studies at UCSD.  

He enjoys teaching classes related to American Political Development, International Relations, film and politics, globalization, immigration, terrorism, Security Studies, and U.S. foreign policy. Dr. Totten also likes to teach the Global Studies in the College's core curriculum, and the opportunity to offer a class on United States immigration law and policy.  He feels privileged to coach AJU's long-standing and successful undergraduate Model United Nations team at a national competition in San Francisco every spring and a conference in Seattle in the fall.  In recent years, students have ably represented countries such as Brazil, Nigeria, Spain, and Sweden at tournaments.   

Professor Totten's research has appeared in academic journals and public policy edited volumes, and it has centered on transnational issues, international relations and security, U.S. immigration policy, and the American Founding.  In addition to the "publications" tab above, you can see his research at ResearchGate. 
Publications

Articles

"Foreign Policy Interpretive Lenses and State Migration Law: Realism, Isolationism and Liberalism Thought, and U.S. Immigration Policy." UC Davis Journal of International Law & Policy 24 (2018): 135-177. 

"Statecraft and Migration: A Research Note on American Strategies to Use Immigration in Foreign Policy from the Founding Era through the Early Twenty-First Century." Diplomacy & Statecraft 28 (2017): 344-370. 

"International Relations, Material and Military Power, and United States Immigration Policy: American Strategies to Utilize Foreigners for Geopolitical Strength, 1607 to 2012." Georgetown Immigration Law Journal 29 (Winter 2015): 205-256. 

"Epidemics, National Security, and US Immigration Policy." Defense & Security Analysis 31 (Summer 2015): 1-14. 

"Security, Two Diplomacies, and the Formation of the U.S. Constitution: Review, Interpretation, and New Directions for the Study of the Early American Period." Diplomatic History 36 (January 2012): 77-117.

"National Security and U.S. Immigration Policy, 1776-1790." Journal of Interdisciplinary History 39 (Summer 2008): 37-64.   

Summarized in JSTOR Daily: Where News Meets Its Scholarly Match, Livia Gershon, "Immigration and National Security in George Washington's Day," March 7, 2017.

---

Book Chapters

"The Articles of Confederation State-System, Early American International Systems, and Antebellum Foreign Policy Analytical Frameworks." In A Companion to U.S. Foreign Relations: Colonial Era to Present, ed. Christopher Dietrich (Wiley Blackwell, forthcoming, expected 2019).

"Security and Immigration Policy: An Analytical Framework for Reform." In Undecided Nation: Political Gridlock and the Immigration Crisis, eds. Erika de la Garza and Tony Payan (Springer International Publishing, 2014).

---

Dictionary/Encyclopedia Entries

"1924 National Origins Act." In Race and Ethnicity in the United States: From Pre-contact to the Present, eds., Russell M. Lawson and Benjamin A. Lawson (ABC-CLIO, forthcoming, 2019-2020?).    

"Immigration and Naturalization Service," in Dictionary of American History, Supplement: America in the World, 1776 to the Present, ed., Edward Blum (Scribner's, 2016).

---

Book Reviews

Review for Journal of American Studies, Vol. 48, November 2014, of Robert W.T. Martin, Government by Dissent: Protest, Resistance, and Radical Democratic Thought in the Early American Republic (NYU Press, 2013). 

---

Working Papers

2019 or 2020? "John Witherspoon and the Foundation of American Foreign Policy," In Progress.

2013. "Security and US Immigration Policy: Two American Immigration Security Traditions and an Analytical Framework of National Security and US Immigration Policy," Working Paper in Immigration Reform: A System for the 21st Century, edited by Tony Payan and Erika de la Garza, Rice University Baker Institute for Public Policy, Latin America Initiative.

2012. "Epidemics, National Security, and U.S. Immigration Policy: Historical Policy Responses," UC San Diego Center for Comparative Immigration Studies Working Paper Series, #187