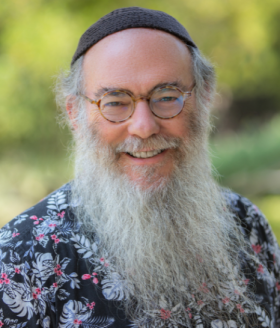 Education

Rabbinic Ordination Ziegler School of Rabbinic Studies of the American Jewish University

M.A., Ph.D. Brandeis University, Department of Near Eastern and Judaic Studies.

The School of Criticism and Theory at Dartmouth College, Hanover, NH.

Shalom Hartman Institute for Advanced Judaic Studies, Jerusalem, Israel, Research fellow and member of the Institute's Center for Medicine, Ethics, and Halakhah.

B.A. Hebrew University of Jerusalem, Departments of Philosophy and Jewish Thought.

Yeshivat Har Etzion, Alon Shvut, Israel.
Bio

Rabbi Aryeh Cohen, PhD is Professor of Rabbinic Literature and a former chair of the Rabbinics Department in the Ziegler School of Rabbinic Studies. Dr. Cohen has created and taught most of the courses in the Rabbinics curriculum over the more than two decades of his affiliation with the Ziegler School. His research and scholarship sit at the intersection of Talmud, Jewish ethics, and social justice activism. This is present in his teaching, especially his senior seminar "Issues of Justice," a Project Based Learning course in which students have to develop advocacy-based in Jewish text on a social justice issue. His latest book Justice in the City: An Argument from the Sources of Rabbinic Judaism emerges from and articulates the same concerns.

Dr. Cohen is a co-convener of the Black Jewish Justice Alliance (BJJA) and a member of Clergy for Black Lives. With Clergy for Black Lives, he co-organized one of the largest memorial demonstrations in Downtown Los Angeles after the murder of George Floyd.

From 2016-2022, Dr. Cohen was the Rabbi in Residence at Bend the Arc: Jewish Action, a national social justice organization. In this role, he organized the Jewish community around issues of immigration justice and restorative justice and mobilizes a multifaith community of clergy and laypeople to nonviolent direct action.

Dr. Cohen is the president of the Society for Jewish Ethics.

Dr. Cohen has a weekly Talmud podcast called Daf Shvui / Weekly Daf: Give me forty minutes or so and I'll give you a daf or so.

FELLOWSHIPS AND HONORS

Kogod Research Fellow at the Shalom Hartman Institute, North America 2018-2021

South Coast Interfaith Council 2019

"Giant of Justice" from Clergy and Laity United for Economic Justice 2016
Publications

Books

Rereading Talmud: Gender, Law and the Poetics of Sugyot, Brown University Series in Jewish Studies, Scholars Press, 1998.

Beginning /Again: Towards a Hermeneutics of Jewish Texts, ed. with Shaul Magid, Seven Bridges Press, 2002.

Justice in the City: An Argument from the Sources of Rabbinic Judaism, Academic Studies Press, 2012.

As editor

Eliezer Slomovic, Readings on Maramarosh, edited by Caryn Landy, Aryeh Cohen, Steven Lowenstein, Academic Studies Press, 2013.

Refered articles

"Enacting Resistance: Encountering Rabbi Aqiva in the Bet Midrash and in the Streets," Journal of Textual Reasoning, Vol. 10, No. 1 (December 2018)

"From JTS to Riverside Church: The Relationship Between Torah min Hashamayim and Heschel's Activism," Refereed articles Journal of Jewish Ethics, Vol. 4, No. 1 (2018), pp. 1-18.

"'The Foremost Amongst the Divine Attributes Is to Hate the Vulgar Power of Violence': Aharon Shmuel Tamares and Recovering Nonviolence for Jewish Ethics," Journal of Jewish Ethics, Volume 1:2 (2015).

"Justice, Wealth, Taxes: A View from the Perspective of Rabbinic Judaism," Journal of Religious Ethics. Volume 43:3. (2015).

"Hagar and Ishmael: A Commentary," Interpretation: A Journal of Bible and Theolog, 68:3 (2014).

"Land and Messianism," Journal of Scriptural Reasoning Volume 10.1.

"A Response to Menachem Fisch's 'Berakhot 19b: The Bavli's Paradigm of Confrontational Discourse'," The Journal of Textual Reasoning, Volume 4.2.

"Why Textual "Reasoning"?" Journal of Textual Reasoning (2002): 1,1.

"Giddul's Wife and the Power of the Court: On Talmudic Law, Gender, Divorce and Exile," RLAWS: Review of Law, Women and Society, Volume 9.2.

"'This Patriarchy Which is Not One': The Ideology of Marriage in Rashi and Tosafot, Hebrew Union College Annual. Volume 70 (1999).

"'Do the dead know…' The Representation of Death in the Bavli," AJS Review, vol. xxiv, no 1, 1999.

"Towards an Erotics of Martyrdom," The Journal of Jewish Thought and Philosophy, Volume 7, Number 2 1997.

Invited articles/Book Chapters

"Assuming Power: Judges, Imagined Authority, and the Quotidian," with Rumi Ahmed, in Anver Emon, ed., Islamic and Jewish Legal Reasoning: Encountering Our Legal Other (2016)

"The Violence of Poverty," in Wealth and Poverty in the Jewish Tradition, Studies in Jewish Civilization, Vol. 26, ed. Leonard J. Greenspoon, Purdue University Press (2015).

"The Divine Voice of the People," Cross Currents, September, 2014, 404-409.

"The Gender of Shabbat," in A Woman in the Temple Courtyard, ed. Tal Ilan, Mohr Siebck, (2012).

"The Sage and the Other Woman: A Rabbinic Tragedy," in The Passionate Torah: Sex and Judaism, ed. Danya Ruttenberg, NYU (2009).

"Hearing the Cry of the Poor," in Crisis, Call, and Leadership in the Abrahamic Traditions, ed. Peter Ochs and William Stacy Johnson Palgrave Macmillan, (2009).

"Beginning Gittin/Mapping Exile," in Beginning/Again: Toward a Hermeneutics of Jewish Texts, ed. Aryeh Cohen and Shaul Magid, Seven Bridges Press (2002).

"The Task of the Talmud: On Talmud as Translation," in A.A. den Hollander, Ulrich Schmid , Willem Smelik, eds. Text and Paratext, E.J. Brill, 2002.

"Response to 'Revelation Revealed'," in Textual Reasonings, ed. Nancy Levene and Peter Ochs SCM Press, 2002.

Translations

Rabbi Chaim David Halevi Responsa Aseh lechah rav III: 57: "Incarceration in Jewish Law," Journal of Jewish Ethics, 2020, Vol. 6, No. 1 (2020), pp. 118-132

Eliezer Yehudah Waldenberg, Hilchot Medina, "Incarceration in Prison and its Definitions, and the Punishment of Exile," Journal of Jewish Ethics, 2021, Vol., No. 2 (2021), pp. 282-296.