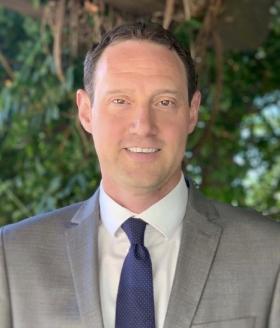 Education

J.D., The Ohio State University
EdM, Harvard University
MBA, Northern Kentucky University
B.A. Indiana University
 
Bio

Prior to beginning his term as Dean on July 1, 2020, David Groshoff was a tenured Professor of Business & Law at AJU, joining the faculty in 2015 and teaching both in the graduate business school's MBA program and serving as the undergraduate business department Chair. 

Dean Groshoff also served as an Associate Professor of Law & Director of the Business Law Center at the Western State College of Law in Orange County from 2010-2014, where the school's graduating class of 2014 voted him its "Professor of the Year." He began his full-time academic career as an Assistant Professor of Finance at the Providence College School of Business in Providence, Rhode Island.

His research straddles the nexus of Finance, Governance, Ethics, and Law, often using social entrepreneurship as the overlay, and his publications have been cited globally and used as coursepack readings at schools such as Harvard and UCLA.

Prior to academia, Dean Groshoff spent over a decade as an executive at JPMorgan Investment Management, where he not only served as a discretionary portfolio manager of several billion dollars of special situations assets (ranging from private equity to distressed debt), but also as the Chief Legal Officer of a mutual fund.

His practical experience also includes serving on the boards and audit committees of three publicly traded companies (one ranked by WSJ.com as a Top-100 equity performer of 2005, with a 155% annual return), creating a number of businesses with a former national entrepreneur of the year, and continuing to oversee his own consulting firm focused on illiquid asset valuation and management for a client base of Wall Street and governmental entities. He also has served on the boards of a number of human rights advocacy nonprofits.
Publications

Selected Solo-Authored Publications

The Coming Wave of Pretextually Profiteering Social Entrepreneurs: A Case Study at the Nexus of Property and Civil Rights,
39 WILLIAM & MARY ENVIRONMENTAL LAW & POLICY REVIEW 657 (2015).

Extraordinary Popular Delusions and the Madness of Crowdfunding Constraints & Bitcoin Bubbles,
5 WILLIAM & MARY BUSINESS LAW REVIEW 489 (2014).

Con-trepreneurship? Examining Social Enterprise Legislation's Feel-Good Governance Giveaways,
16 UNIVERSITY OF PENNSYLVANIA JOURNAL OF BUSINESS LAW 233 (2013).

Would "Junkholder Primacy" Reduce Junk Corporate Governance?,
13 JOURNAL OF BUSINESS & SECURITIES LAW (MICHIGAN STATE UNIVERSITY) 59 (2012).

Law School Leveraged Buyouts & Stakeholder Values,
17 FORDHAM JOURNAL OF CORPORATE & FINANCIAL LAW 387 (2012).

Unchartered Territory: Market Competition's Constitutional Collision with Entrepreneurial Sex- Segregated Charter Schools,
2010 BRIGHAM YOUNG UNIVERSITY EDUCATION & LAW JOURNAL 307 (2010).

---

Co-Authored Publications

Crowdfunding 6.0: Does the SEC's FinTechLaw Failure Reveal the Agency's True Mission to Protect—Solely Accredited—Investors?,
9 OHIO STATE UNIVERSITY ENTREPRENEURIAL BUSINESS LAW JOURNAL 277 (2015, co-authored with A. Nguyen & K. Urien).

Will the JOBS Act's Transformative Regulatory Regime for Equity Offerings Cost Investment Bankers' Jobs?,
1 TEXAS A&M LAW REVIEW, 559 (2014) (co-authored with K. Urien).

---

Selected Invited Symposium Publications

Moore's Law Versus' "Man's'" Law?: How Cybersecurity and Cyber Terror Government Policies May Impact Entrepreneurial Startups, 
19 CHAPMAN LAW REVIEW 373 (2016).

Equity Crowdfunding as Economic Development?, 
38 CAMPBELL LAW REVIEW 317 (2016).