Event Details
Roe v. Wade: Reproductive Freedom as a Jewish Value
Tuesday at 5:00pm PDT
---
How do the values of the Jewish tradition, the sanctity of human life and the respect for human dignity figure into the role of reproductive freedom? AJU welcomes Sheila Katz, the CEO of National Council of Jewish Women for a conversation about Jewish values and reproductive freedom and the recently leaked Supreme Court draft opinion that would overturn Roe v. Wade.
---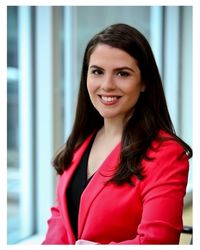 As the CEO of the National Council of Jewish Women (NCJW), Sheila Katz leads an organization of more than 200,000 advocates who make change happen at the local, state and national levels. Since becoming CEO, Sheila has led the organization to more than double the number of NCJW advocates working to ensure that the rights of women, children and families are protected, translated into public policy and upheld in our courts. Through meaningful education, strategic advocacy and supporting the 56 local NCJW sections in direct service, Sheila works to empower Jewish women and allies to engage in work that impacts those at the margins of society while centering the most impacted through partnerships and coalitions. 
Under Sheila's leadership, NCJW has responded to threats to abortion access, voting rights, childcare access, equal pay, and other issues of equity through protest, advocacy and new campaigns making it clear where Jewish women and allies stand on the most important issues of the day. Sheila spearheaded the creation of 73Forward, a Jewish movement for abortion justice, and the launch of "Rabbis for Repro," a network of more than 1,700 Jewish clergy teaching and preaching about reproductive justice and Judaism. 
Before coming to NCJW, Sheila led student engagement and leadership at Hillel International, the largest Jewish on-campus community in the world. In her 12 years at Hillel, she founded programs to expand student participation in Jewish and civic life including "Ask Big Questions," an award-winning national initiative to guide diverse students in meaningful conversations, and MitzVote, Hillel's successful non-partisan civic engagement campaign. 
Sheila holds an M.S. in teaching from Pace University and B.A. in politics from Ithaca College. She is a proud alumna of the Wexner Foundation Field Fellowship and Teach for America. Sheila was named as one of the top 10 faith influencers in 2021 by Religion News Service, as one of the 50 most influential Jews in the world in 2020 by the Jerusalem Post and one of 2020's faith leaders to watch by the Center for American Progress. She has also been featured in the New York Times, Oprah Magazine, the Washington Post, Haaretz and more. She sits on the Board of Governors of Tel Aviv University. 
You can find Sheila on Twitter @SheilaKatz1.
---
Rabbi Sherre Hirsch is the Chief Innovation Officer at American Jewish University. She made headlines as the first female rabbi at Sinai Temple, the largest Conservative congregation on the west coast. She served as Senior Rabbinic Scholar at Hillel International, where she created and developed Hillelwell, an initiative for Hillels worldwide to become the recognized address for preventative mental health. A thought leader and author on spirituality and religion, Rabbi Hirsch has appeared on the Today Show, ABC News, Extra, and PBS, among other outlets, and has been a contributor to Time.com, Oprah Magazine, the Jewish Journal, the Hollywood Journal, and more.