Event Details
Marin Hinkle on The Marvelous Mrs. Maisel
Monday at 12:00pm PDT
---
In this engaging interview, actress Marin Hinkle will discuss her role as Rose Weissman in the hit television series "The Marvelous Mrs. Maisel." Hinkle and AJU's Michelle Starkman explore insights into her character's development and journey throughout the show's seasons, as well as her personal experiences and what it was like to be cast as a Jewish mother, matchmaker, and all around outspoken female character in a show set during the '50s and '60s.  
---
Marin Hinkle is best known for her Emmy nominated work as "Rose Weissman" on the award winning Amazon series, THE MARVELOUS MRS MAISEL. Other TV credits include 12 seasons as "Judith", Jon Cryer's ex wife, on the long running series TWO AND A HALF MEN for CBS, along with "Speechless" for ABC, and the Ed Zwick/Marshall Hershkovitz dramatic series, ONCE AND AGAIN, amongst others. Marin recently starred in JUMANJI 2, reprising her role from the original film. Marin has appeared on Broadway in A THOUSAND CLOWNS with Walter Matthau, as well as ELECTRA with Zoe Wanamaker. Marin attended Brown University and New York University's Graduate Acting Program at the Tisch School of the Arts.
---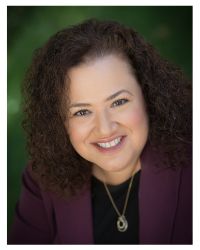 Michelle Starkman was appointed AJU's Vice President of Communications in March 2020. In this position, Michelle is responsible for leading the university's internal and external communications strategies, including media relations. Michelle also oversees digital content, manages the University's marketing strategy, advertising, and serves on the university's senior team. Prior to joining AJU in 2017, Michelle served as Admissions and Marketing Director of a local Jewish day school, and as the Director of Marketing and Communications for a local management consulting firm. Michelle holds an MBA from Pepperdine's Graziadio School of Business, and an M.A. and B.A. in Political Science from Cal State Northridge.
---
Event Contact
Contact Name
Maven - Spirited by AJU