Event Details
Justice We Shall Pursue: Understanding What "Defund the Police" Means
6pm PDT
---
American Jewish University stands opposed to all forms of racism and all bigotry. We affirm our support for all our students, staff, and community members who are pursuing justice at this moment.
Our work is driven by the Jewish values of justice (tzedek), equality under the law (mishpat) and acts of kindness (chesed). Our lifeblood as an educational institution is to increase access for all we serve to open inquiry, vigorous conversation, moral engagement, and disciplined learning.
In the coming weeks, we will use our power as a University to host conversations around structural racism and its pernicious impact on our society. Join us for our upcoming conversation: Justice We Shall Pursue: Understanding What "Defund the Police" Means
Join a conversation with Pastor Cue Jn'Marie, a former Virgin Records rapper, turned evangelist, activist and organizer, and AJU's Dr. Aryeh Cohen, about the history and context of the Black Lives Matter movement, and the movement to defund the police in Los Angeles. The killing of George Floyd mobilized the largest mass movement in the history of this country. However, the Movement for Black Lives has been organizing since the killing of Trayvon Martin in 2012 and is the continuation of the long struggle for black Americans. How is the movement to defund the police a response to this moment? What does a future without police or the present practices of incarceration look like for all people?
---
A former Virgin Records Artist with the Rap Group College Boyz; the Group that brought you Victim of the Ghetto, Pastor Cue Jn'Marie heard a call from God in 1994 while watching the movie Malcolm X. He then left the music industry and began following this call. In an attempt to understand human struggles and suffering, Cue has traveled and has been involved with international service missions for over 15 years, and has been to Thailand, Vietnam, West Africa, Guatemala and several other Countries, which has helped to shape his worldview.
Cue is a visionary Church planter and co-founder and former Executive Pastor of NewSong LA Covenant Church and a graduate of the Passing the Mantle program at the University of Southern California. Cue has also completed a two-year program at USC'S Institute for Violence prevention. As a result, he was formerly on the planning committee organizing prisoner re-entry hearings in the city of Los Angeles with RCNO. Cue is the co-convener of the Black & Brown Clergy Coalition as well as the Black Jewish Justice Alliance in the City of Los Angeles as a faith-rooted organizer and part-time staffer with Clergy & Laity United for Economic Justice (CLUE). Pastor Cue is actively engaged in the city of Los Angeles in many areas. Previously he served as the Cause (outreach) Pastor for both NewSong LA & NewSong Irvine (currently NewSong Santa Ana). He was formerly on NewSong LA's staff for 10 years, and had been on staff as part of the NewSong family for over 12 years.
Cue is founder and Director of Creating Justice-LA, and is also the Pastor of The Row LA, aka "The Church Without Walls" in Downtown Los Angeles' Skid Row Community for the past 14 years. Cue is a member of Black Lives Matter LA, a member of Clergy 4 Black Lives, and is dedicated to helping address issues of public policy that are affecting the most vulnerable citizens and residents in the City of Los Angeles. Pastor Cue is a KCET/PBS 2019 Southern California local Hero honoree.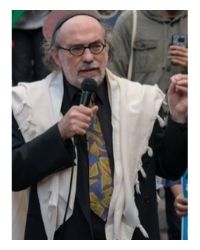 Aryeh Cohen is Professor Rabbinic Studies at American Jewish University, Kogod Senior Research Fellow at the Shalom Hartman Institute of North America, Rabbi in Residence at Bend the Arc: Jewish Action, Southern California, and co-chair of the Board of Directors of CLUE (Clergy and Laity United for Economic Justice). His latest book is Justice in the City: An Argument from the Sources of Rabbinic Judaism (Academic Studies Press).
Event Contact
Contact Name
The Whizin Center for Continuing Education