Event Details
Judaism as a Path for Connection: Love, Loss and Meaning
Tuesday at 5:00PM PDT
---
Zibby Owens wrote BOOKENDS as a candid and charming memoir about the ups and downs of midlife through the lens of reading and books. In conversation with Rabbi Sherre Hirsch, Zibby one of American's most beloved book influencers, will share how books and Jewish wisdom helped her navigate tough times. After losing her closest friend on 9/11 and later becoming utterly stressed out and overwhelmed by motherhood, Zibby was forgetting what made her her. She turned to books, and writing. Just when things seemed particularly bleak, Zibby unexpectedly fell in love with a tennis pro turned movie producer who showed her the path to happiness: away from type A perfectionism and toward "letting things unfold organically." What "unfolded" was a meaningful career, a great love, and finally, her voice, now heard by millions of listeners, as well as a journey toward Judaism and connection.
---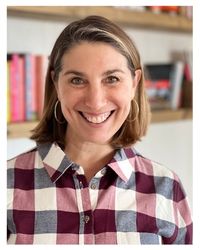 Zibby Owens is an author, podcaster, publisher, CEO, and mother of four. Zibby founded Zibby Owens Media, a privately held media company designed to help busy people live their best lives by connecting to books and each other. Zibby is also founder of Moms Don't Have Time To, a home for her podcasts, publications (including two anthologies), and communities; and Zibby Books, a publishing house. She is a regular columnist for Good Morning America, Katie Couric Media, and Medium. 
Her upcoming memoir, Bookends: A Memoir of Love, Loss, and Literature, is a deeply personal story about her journey to finding her voice and rewriting her story. An honest and moving story about relationships, love, food issues, the writing life, and finding one's true calling, Bookends will inspire and uplift. 
---
Rabbi Sherre Hirsch is the Chief Innovation Officer at American Jewish University. She made headlines as the first female rabbi at Sinai Temple, the largest Conservative congregation on the west coast. She served as Senior Rabbinic Scholar at Hillel International, where she created and developed Hillelwell, an initiative for Hillels worldwide to become the recognized address for preventative mental health. A thought leader and author on spirituality and religion, Rabbi Hirsch has appeared on the Today Show, ABC News, Extra, and PBS, among other outlets, and has been a contributor to Time.com, Oprah Magazine, the Jewish Journal, the Hollywood Journal, and more.