Event Details
How Do we Move Forward? Lessons from Author Rochelle B. Weinstein on Her Book When We Let Go
Wednesday at 12:00PM PDT
---
When Avery Beckett is proposed to by Jude Masters, a widowed father, and the man she loves, it should be a time of great joy. Instead, Avery is on edge. She's wary of the idea of family, doubtful of happy endings, and too afraid to take the leap. It's the kind of fear that comes from having secrets. 
Before Avery commits to a new life, she must reconcile with the one she left behind. 
Rochelle B. Weinstein introduces us to Avery Beckett, a woman on the edge, doubtful of happy endings, Join the award-winning author as she discusses When We Let Go and how it is meant to enable all of us to find our own way forward. In conversation with Rabbi Sherre Hirsch.  
 Support the author by purchasing her book HERE.  
---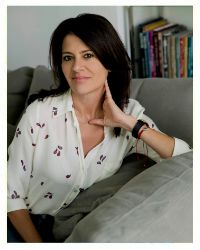 Rochelle B. Weinstein is the USA Today and Amazon bestselling author of six women's fiction novels. Rochelle spent her early years, always with a book in hand, raised by the likes of Sidney Sheldon and Judy Blume. A former entertainment industry executive, she splits her time between sunny South Florida and the mountains of North Carolina. When she's not writing, Rochelle can be found hiking, reading, and searching for the world's best nachos. She is currently working on her seventh novel releasing Spring 2023. Please visit her at www.rochelleweinstein.com.
---
Rabbi Sherre Hirsch is the Chief Innovation Officer at American Jewish University. She made headlines as the first female rabbi at Sinai Temple, the largest Conservative congregation on the west coast. She served as Senior Rabbinic Scholar at Hillel International, where she created and developed Hillelwell, an initiative for Hillels worldwide to become the recognized address for preventative mental health. A thought leader and author on spirituality and religion, Rabbi Hirsch has appeared on the Today Show, ABC News, Extra, and PBS, among other outlets, and has been a contributor to Time.com, Oprah Magazine, the Jewish Journal, the Hollywood Journal, and more.
---