Event Details
High Holy Days for the Soul: Tefillah and Prayer
Tuesday at 12:00pm PDT
---
Teshuvah, meaning "repentance" or "return," holds immense significance in the Jewish tradition, particularly during the High Holy Days. It is a time of self-reflection, seeking forgiveness, and making amends for past actions, both towards oneself and others. Join us for the opportunity to hear from David Ben Moshe who will share his personal experiences with Teshuvah and the invaluable lessons he has learned along the way. David's coaching expertise, combined with his captivating storytelling, will leave you inspired and equipped to create meaningful transformation in your own life this High Holy Day season.
About High Holy Days for the Soul.
Experience this three-part series highlighting spiritual enlightenment through the High Holy Days with esteemed speakers David Ben Moshe in conversation with Ben Harris, editor of My Jewish Learning and AJU's Rabbi Carrie Vogel in conversation with Rabbi Sharon Brous, and Rabbi Noah Farkas. Join us as they share their profound wisdom and insights on Teshuvah, Tefillah, and Tzedakah, guiding us towards personal growth in the new year and deepening our connection to the divine, our world, and Judaism as a whole. 
This series is delivered in partnership with My Jewish Learning.
About My Jewish Learning: My Jewish Learning is the premiere non-denominational Jewish learning site, empowering Jewish discovery for anyone interested in any Jewish topic, text, or tradition. It is published by 70 Faces Media, the largest Jewish digital publisher in North America.
---
Rabbi Sharon Brous is the senior and founding rabbi of IKAR. Her TED talk, "Reclaiming Religion," reached over 1.5 million viewers. She blessed President Obama and Vice President Biden at the Inaugural National Prayer Service in 2013, and in 2021 she returned to bless President Biden and Vice President Harris. Ranked #1 on Newsweek/The Daily Beast's influential Rabbis in America list, Brous is recognized as one of the fifty most influential Jews by The Forward and Jerusalem Post. Brous's upcoming book, "The Amen Effect: Ancient Wisdom to Heal Our Hearts and Mend Our Broken World," is available for pre-order in spring 2023. Ordained by the Jewish Theological Seminary and a graduate of Columbia University, she resides in Los Angeles with her spouse and three children.
---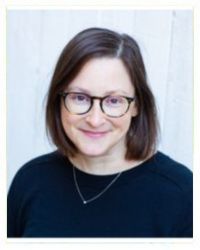 Rabbi Carrie Vogel serves Director of Undergraduate Initiatives, where she oversees the American Jewish University's new Jewish Learning Experience, providing high school students the opportunity to earn undergraduate college credit for learning which takes place in their home community. Rabbi Vogel received a Master of Arts in Jewish Education, as well as rabbinic ordination from Hebrew Union College here in Los Angeles, and fulfilled her early childhood units at American Jewish University. Her undergraduate degree is in English Literature from the University of Cincinnati.
Before coming to AJU, she worked for 14 years at Kehillat Israel, in the Pacific Palisades, overseeing all programming for students in kindergarten through twelfth grade. In that time, she developed a nationally recognized Hebrew program, a unique outdoor education option for religious school and a project-based learning curriculum. She has written on several topics pertaining to Judaism and family life, including adoption, infertility, intentional curriculum design and nontraditional families.
---
Event Contact
Contact Name
Open Learning