Location
AJU's Familian Campus
15600 Mulholland Drive
Los Angeles, 90077 
Event Details
Daniel Silva In Person: An Exclusive Conversation on "The Collector" 
Sunday at 5:00pm PDT
---
American Jewish University is delighted to welcome back #1 New York Times bestselling author Daniel Silva to our Gindi Auditorium for an exclusive conversation about his newest best and latest Gabriel Allon thriller, "The Collector," followed by a book signing with author Daniel Silva.  
Legendary art restorer and Israeli spy Gabriel Allon joins forces with a brilliant and beautiful master-thief to track down the world's most valuable missing painting, but soon finds himself in a desperate race to prevent an unthinkable conflict between Russia and the West.  
Silva's powerhouse novel delivers another stunning thriller in his action-packed tale of high stakes international intrigue, and showcases his outstanding skill and brilliant imagination, destined to be a must-read for both his multitudes of fans and growing legions of converts.  
*If each attendee would like a signed copy of Daniel Silva's book, please select "Single Ticket."*
---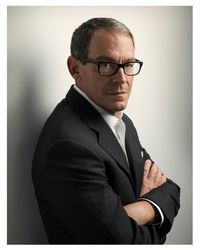 Daniel Silva is the award-winning, #1 New York Times bestselling author of The Unlikely Spy, The Mark of the Assassin, The Marching Season, The Kill Artist, The English Assassin, The Confessor, A Death in Vienna, Prince of Fire, The Messenger, The Secret Servant, Moscow Rules, The Defector, The Rembrandt Affair, Portrait of a Spy, The Fallen Angel, The English Girl, The Heist, The English Spy, The Black Widow, House of Spies, The Other Woman, The New Girl, The Order, and The Cellist. He is best known for his long-running thriller series starring spy and art restorer Gabriel Allon. Silva's books are critically acclaimed bestsellers around the world and have been translated into more than 30 languages. He resides in Florida with his wife, television journalist Jamie Gangel, and their twins, Lily and Nicholas. For more information visit www.danielsilvabooks.com.
---
Event Contact
Contact Name
Maven - Spirited by AJU