Event Details
What You Leave Behind: Artist Talk with Jenny Yurshansky
7pm PDT
---
Local artist Jenny Yurshansky was born stateless in Rome, while her parents were fleeing from Soviet-era Moldova. Her work is anchored in the telling the stories of immigrants, exploring movements around the world, and the impact of these experiences on the world. Join a conversation with Jenny and AJU's Chief Curator, Dr. Rotem Rozental, as they discuss her work and launch an online project that offers new ways to listen to the world.
---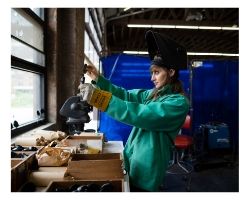 Jenny Yurshansky received her MFA in Visual Art from UC Irvine and was a post-grad in Critical Studies at the Malmö Art Academy. In 2021 she will have a solo show at American Jewish University. She will also be the first Alumni Artist-in-Residence at Bemis Center for Contemporary Arts and has been award the Lighton Travel Fellowship. In 2020 she had a solo show at Harvard-Westlake and in 2019 Yurshansky received the City of Los Angeles Artist Fellowship along with an exhibition at Los Angeles Municipal Art Gallery. She had a solo exhibition at St. Mary's College in Notre Dame, Indiana, and was part of the exhibition "A NonHuman Horizon" at Los Angeles Contemporary Exhibitions. In 2018 Pitzer College Art Galleries published her artist book and she was an Artist-in-Residence at Bemis, along with being part of the 2018-19 Mexicali Biennial. In 2016 she was an Artist-in-Residence at Arts Initiative Tokyo. In 2014 she was the first Artist-in-Residence at Pitzer College Art Galleries, followed in 2015 by her solo exhibition as part of the Emerging Artist series curated by Ciara Ennis. In 2015 Yurshansky was also a Guest Artist Researcher at the Royal Institute of Art in Stockholm, which she concluded with a solo show. In 2010 she was the first international artist awarded the Maria Bonnier Stipend from Bonniers Konsthall in Stockholm.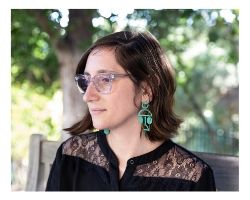 Dr. Rotem Rozental is Chief Curator and Senior Director of Arts and Culture at American Jewish University. Israeli photo-historian, scholar, consultant, lecturer and mother (not necessarily in that order!), her writings appeared in Artforum.com, Tablet, Philosophy of Photography, Tohu Magazine, and Alaxon, among other outlets. Rotem's work has been recognized and supported by various organizations, including Artis, Independent Curators International (ICI) and The Center for Jewish History.
---

This event was made possible with the support of the Gilbert Foundation.
Event Contact
Contact Name
The Whizin Center for Continuing Education