Event Details
The Night Archer: Ambassador Michael Oren's Journey Through Fiction
12pm PDT
---
During his time in the Israeli government, Ambassador Michael Oren wrote copious amounts of fiction that he was not allowed to publish - until now. Following the recent publication of The Night Archer and other Stories, join him in conversation with AJU's President, Dr. Jeffrey Herbst, to explore his views on Israel today and on fiction as an expression of Jewish life.
To borrow the book from our digital library, click here. 
Need a library card? Click here. 
To purchase the book, click here. 
---
We encourage everyone to watch the presentation live. It will not be available to view as we are currently working behind the scenes to improve the user experience.
---

Statesman, historian, and parliamentarian, Ambassador Michael Oren has devoted his life to serving Israel and the Jewish people around the world. As a Member of Knesset and Deputy Minister in the Prime Minister's Office, he interacted with foreign leaders and defended Israel in the media. He spearheaded efforts to strengthen Israel-Diaspora relations, to develop the Golan Heights, and to fight BDS. As Chairman of a classified subcommittee, he dealt with some of Israel's most sensitive security issues. Prior to that, for nearly five years, Oren served as Israel's Ambassador to the United States. He was instrumental in obtaining US defense aid, especially for the Iron Dome system, and American loan guarantees for Israel's economy. He built bridges with diverse communities across the nation, wrote dozens of op-eds and conducted hundreds of media interviews, fortifying the U.S.-Israel alliance.
A graduate of Princeton and Columbia, Dr. Oren was a visiting professor at Harvard, Yale, and Georgetown. He holds four honorary doctorates and was awarded the Statesman of the Year Medal by the Washington Institute for Near East Policy and the Dr. Martin Luther King Legacy Prize for International Service. His last three books—Six Days of War, Power, Faith, and Fantasy, and Ally: My Journal Across the American-Israel Divide—were all New York Times bestsellers. He received the Los Angeles Times History Book of the Year Award, a National Humanities prize, and the Jewish Book Award.
Frequently interviewed by the U.S. and international press, he has had appeared on the Stephen Colbert and Bill Maher shows, 60 Minutes, and the View. He was the Middle East analyst for CBS and CNN.
Raised in New Jersey, Michael Oren made aliya in the 1970s, was an emissary to Jewish refuseniks in the Soviet Union and won two gold medals in the Maccabiah Games. In the Israel Defense Forces, he served as a Lone Soldier in the paratroopers and as an IDF Spokesman, participating in several wars and reaching the rank of major. He established the Lone Soldier caucus in the Knesset.
Michael Oren was named by NPR as one of the best college commencement speakers ever, by Politico as one of the fifty most influential thinkers in America, by the Forward as one of the five most influential Jews in America, and by the Jerusalem Post as one of the ten most influential Jews worldwide. Currently, he is writing a book about Israel's War of Independence. Michael is the father of three and grandfather of five and lives in Jaffa.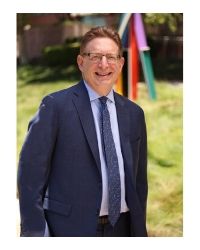 Dr. Jeffrey Herbst is the fourth president of American Jewish University. Prior to joining AJU, Dr. Herbst was president and CEO of the Newseum and the Newseum Institute in Washington, DC. From 2010 to 2015, he was president of Colgate University, where among other accomplishments he is credited with helping the university complete its nearly half billion-dollar fundraising campaign, leading the development and initial implementation of a university-wide strategic plan, and increasing the diversity and academic caliber of its educational programming.
Additionally, Dr. Herbst was a Senior Fellow at the Brenthurst Foundation, was a two-time Fulbright Scholar, and is a former trustee of Freedom House. He has also served as provost and executive vice president for academic affairs and as professor of political science at Miami University in Ohio, and taught at Princeton University for almost two decades.
Dr. Herbst earned his bachelor's degree, summa cum laude, from Princeton University, and a master's degree and doctorate in political science from Yale University. He is the author of the award-winning "States and Power in Africa" and, with several co-authors, the just-published "Making Africa Work." In addition to many books and articles, he has been published in Foreign Affairs, Foreign Policy, The New York Times, The Wall Street Journal and many other digital and print publications around the world.
Event Contact
Contact Name
The Whizin Center for Continuing Education