Event Details
Rebel with a Cause: Stanley Kubrick's Cinema
12pm PST
---
We encourage everyone to watch the presentation live. It will not be available to view as we are currently working behind the scenes to improve the user experience.
---
Stanley Kubrick's films unravel failed masteries and collapsed heroes, undermining notions of masculinity and relationships.
In his new biography on the life of the legendary filmmaker, Professor David Mikics offers a fascinating look into Kubrick's view of the world and how his Jewishness affected his idea of himself as an outsider.
In this talk, Mikics offers a glimpse into Kubrick's work, and what can we learn from him at this moment.
To purchase Stanley Kubrick: American Filmmaker (Jewish Lives), please visit: https://www.jewishlives.org/books/kubrick
Discount Code : AJUKUBRICK (Save 40% + Free Shipping )
---
David Mikics is Moores Distinguished Professor of English at the University of Houston, as well as a columnist for Tablet magazine. His most recent books are Bellow's People and Slow Reading in a Hurried Age.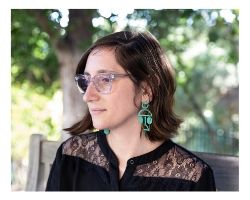 Dr. Rotem Rozental is Chief Curator and Senior Director of Arts and Culture at American Jewish University. Israeli photo-historian, curator, scholar, consultant, lecturer and mother (not necessarily in that order!), she organized exhibitions and mentoring opportunities for artists across the world, and her writings appeared in Artforum.com, Tablet, Philosophy of Photography, Tohu Magazine, and Alaxon, among other outlets. Rotem's work has been recognized and supported by various organizations, including Artis, Independent Curators International (ICI) and The Center for Jewish History.
Event Contact
Contact Name
The Whizin Center for Continuing Education