Event Details
Master Class: Art as Motivation for Social Change, with Ed and Bernie Massey 
Monday, 10:00am-10:45am PDT
---
As the founders of Portraits of Hope, they have transformed cities, taxis, beaches, even airplanes. They have mobilized thousands and thousands of people to come together to create for social change. Join artists and impact makers Ed and Bernie Massey, who will share their motivations and work to empower you to be the difference you want to see in the world. 
Moderated by Dr. Rotem Rozental, AJU's Chief Curator. 
---
ALL SALES FINAL. NO REFUNDS OR EXCHANGES.
---
Cover Image: Spheres at MacArthur Park Image (A Portraits of Hope community-building and civic project) -- photo credit: Felix Massey
---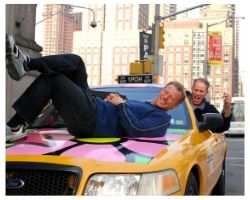 For more than 20 years, the Massey Bros. with their teams have conceived and developed visual, high-profile, public projects and campaigns focusing on the human condition, and led social issues-related, public education initiatives dealing with pluralism, ethnic and gender topics, education, civic literacy, bigotry and extremism, inclusion, animal welfare, homelessness, cross-generational engagement, community-building, revitalization, and volunteerism, among other themes.  A striking public visual component is a signature of their civic projects and efforts.
Both national and international in scope, their projects have been featured in more than a dozen languages in news, public interest, health, art, education, business, and entertainment mediums including; CNN, ABC, CBS, NBC, Fox Business, MSNBC, Los Angeles Times, Tokyo Broadcasting System, Austria ORF, The Wall Street Journal, Televisa, Harpers, The Washington Post, Sculpture, Fortune, The New York Times, Asahi Shimbun, Times of Israel, NPR, People, Univision, Korean Broadcasting System, LA Confidential, Nikkei Newspaper, The Jerusalem Report, La Opinion, Chicago Tribune, Art Das Kuntzmagazine, The Boston Globe, Servador News, Miami Herald, Al Jazeera, the Smithsonian Wilson Quarterly, EFE News, AP, Reuters, and Fuji and Asahi Television.   
The Massey Bros. traditionally merge their disparate skill sets -- but similarly aligned focus -- to initiate and produce major civic projects by working with the private sector, government officials, and organizations ranging from NASA to NASCAR. Ed is a sculptor, painter, children's book author, and U.S. Patent holder whose sculpture and installations often focus on social themes. He enjoys working large-scale and in the public arena. In addition to sculpture, he has created large-scale public paintings and artworks, of which one example is the 4,700 sq. ft. facade of Samy's Camera on Fairfax. Bernie is a social entrepreneur and sees public art for its potential contribution to the public good. He views the power of art and visual projects in the public realm as a launching pad for engaging the public directly on targeted social themes -- while utilizing the beneficial esthetic experiences the artworks may elicit in the public. He enjoys designing ways to have the projects serve as catalysts to advance important public issues and develops associated education campaigns. Additionally, Bernie and Ed devise opportunities for integrating the public in collaborative civic engagement experiences related to the projects.  
Ed and Bernie are the co-founders of Portraits of Hope, a hands-on public art, civic education, and creative therapy program whose projects have culminated in some of the largest public art and civic efforts from LA to NYC, including revitalizations/re-interpretations of the following regional and community symbols and assets: the lake at MacArthur Park, the LA Convention Center's signature curved wall, LA's coastal lifeguard towers, the NYC taxi fleet, Chelsea Piers, and the Beverly Hills Lily Pond. POH projects have visually and colorfully transformed boats, blimps, planes, race cars, animal shelters, senior centers, laundromats, and frontline fire vehicles. A wide array of regions and populations have been involved and served by POH projects including thousands of hospitalized children, students, persons with physical, medical, and socio-economic challenges, seniors, youth, college, and professional groups. 
Both brothers find the challenge of doing big civic projects with all their complexities and respective components from A – Z extremely fulfilling. Ed and Bernie take pride in that the projects are non-partisan and deal with social themes from a universal perspective.
Event Contact
Contact Name
The Whizin Center for Continuing Education