Event Details
Is There a Place for Jews in an Ethnic Studies Curriculum?
12pm PST
---
We encourage everyone to watch the presentation live. It will not be available to view as we are currently working behind the scenes to improve the user experience.
---
California's Ethnic Studies Model Curriculum, when first introduced in 2019, generated a wave of criticism from many Jewish organizations because it largely overlooked the Jewish experience and did not include a lesson plan on anti-Semitism. An early draft likened the American Jewish experience to that of the Irish, asserting that both groups had come to the United States and benefited from racial privilege.
Especially as California's educational vision often has a broader national impact, debates about how to teach the American Jewish experience in the context of heightened concerns about discrimination, privilege, and who is a minority are critical.
Richard Hirschhaut, Director of the American Jewish Committee in Los Angeles, and an important participant in the California discussions, will be in conversation with AJU President Jeffrey Herbst about the growing ethnic studies debates across the US.
---
Richard S. Hirschhaut became Director of AJC Los Angeles in September 2019. He is the organization's chief strategist and principal spokesperson in advancing AJC's global advocacy mission in Southern California, leading a vibrant leadership network and talented professional team.
Rick brings to this position more than 30 years of civil rights, humanitarian, and Jewish communal advocacy, serving in senior professional roles across the U.S. with the Anti-Defamation League, Illinois Holocaust Museum and Education Center, American Jewish Joint Distribution Committee, and American Friends of Rambam Medical Center.
Rick is a builder and innovator who has worked to advance human rights and democratic values, enhance intergroup understanding, and promote the security and well-being of Jews and other vulnerable communities in the United States, Israel, and around the world. His work with NGOs has included efforts to advance humanitarian medical aid and peaceful coexistence in Israel and neighboring countries. He has led fact-finding missions to Israel, Ukraine, Ethiopia, and Cuba. He also spearheaded international efforts to mark the 20th Commemoration of the 1994 Genocide Against the Tutsi in Rwanda.
Previously, Rick led the creation and establishment of the Illinois Holocaust Museum and Education Center, as its founding executive director. The museum opened in 2009 to international acclaim and the participation of President Bill Clinton, Nobel Laureate and Holocaust survivor Elie Wiesel, and an audience of 13,000. Under his leadership, the museum hosted over half a million visitors, including heads of state and other dignitaries.
In 2013, Rick received an Emmy Award as Co-Executive Producer of the nationally-broadcast documentary, Skokie: Invaded but Not Conquered. 
Rick also enjoyed a 21-year tenure with the Anti-Defamation League, including a decade as Midwest regional director. He built bridges between the African-American and Jewish communities and worked closely with law enforcement on issues of antisemitism and extremism. His achievements were recognized with the FBI's Community Leadership Award and the City of Chicago's Human Relations Award.
Rick and his wife Susan, a native of Los Angeles, are the proud parents of two adult children. He holds a bachelor's degree in international relations and Judaic studies from Tulane University, and has studied at Hebrew University's Rothberg School for Overseas Students. He grew up in upstate New York and Knoxville, Tennessee.
---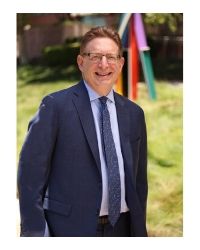 Dr. Jeffrey Herbst is the fourth president of American Jewish University. Prior to joining AJU, Dr. Herbst was president and CEO of the Newseum and the Newseum Institute in Washington, DC. From 2010 to 2015, he was president of Colgate University, where among other accomplishments he is credited with helping the university complete its nearly half billion-dollar fundraising campaign, leading the development and initial implementation of a university-wide strategic plan, and increasing the diversity and academic caliber of its educational programming. Additionally, Dr. Herbst was a Senior Fellow at the Brenthurst Foundation, was a two-time Fulbright Scholar, and is currently a trustee of Freedom House. He has also served as provost and executive vice president for academic affairs and as professor of political science at Miami University in Ohio, and taught at Princeton University for almost two decades. Dr. Herbst earned his bachelor's degree, summa cum laude, from Princeton University, and a master's degree and doctorate in political science from Yale University. He is the author of the award-winning "States and Power in Africa" and, with several co-authors, the just-published "Making Africa Work." In addition to many books and articles, he has been published in Foreign Affairs, Foreign Policy, The New York Times, The Wall Street Journal and many other digital and print publications around the world.
Event Contact
Contact Name
The Whizin Center for Continuing Education