Event Details
Inside the Israeli Psyche: A Conversation with Author Eshkol Nevo
12:30pm PDT
---
Eshkol Nevo has been defining the voice of the Israeli experience worldwide. Join him in conversation with Rabbi and AJU's Emerita Professor Miriyam Glazer, to discuss his work, journey and mark the anticipated publication day of the English version of his novel, The Last Interview.
To pre-order the book, please visit: https://www.penguinrandomhouse.com/books/617401/the-last-interview-by-eshkol-nevo/
---
We encourage everyone to watch the presentation live. It will not be available to view as we are currently working behind the scenes to improve the user experience.
---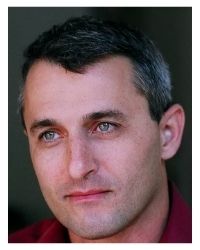 Born in 1971 in Jerusalem, Eshkol Nevo is the author of five novels. His best-selling debut novel Homesick (2004) was awarded the Reimond Vallier prize in France, shortlisted for the Sapir prize in Israel, and long-listed for the independent prize in the UK. His second bestselling novel World Cup Wishes ( 2007) won the Golden Book Prize in Israel and was awarded the Adei-Wizo Prize in Italy. His novel Neuland (2011) sold more than 130,000 copies in Israel, and was awarded the Steimatzky Prize for Book of the Year. Nevo's fourth bestselling novel Three Floors Up, was adapted into a film by the renown Italian director Nanni Moretti titled 'Tre Piani'. Nevo's fifth novel The Last Interview is forthcoming in English in October 2020.
Nevo is the grandson of the third Prime Minister of Israel, Levi Eshkol. In his childhood he spent several years in Detroit. Several of his books have been adapted to the stage, and presented at Beit Lasin and in HaBima. Nevo teaches writing in Israel's most prestigious art school, and runs popular writing workshops in Israel.
---
Rabbi Miriyam Glazer is Emerita Professor of Literature at American Jewish University, where she created and chaired the Literature, Communication & Media Department for over 25 years. Prior to that she was Chair of the Foreign Literatures Department at Ben Gurion University. Her books include Dreaming the Actual: Contemporary Fiction & Poetry by Israeli Women Writers; Psalms of the Jewish Liturgy: A Guide to their Beauty, Power & Meaning, and Dancing on the Edge of the World: Jewish Stories of Faith, Inspiration & Love. She is passionately engaged in establishing a Mobile Library for the underserved children of the Navajo nation in Chinle, Arizona.
Event Contact
Contact Name
The Whizin Center for Continuing Education