Event Details
Breaking Bread
9am PDT
Sherre Hirsch in Conversation with Aliza Kline, Founder of OneTable, and Beth Ricanati, Author of Braided
---
On this day after Passover, lets break bread together. Grab the ingredients listed in the recipe and join us for a morning of challah baking the KEY (the special challah on the shabbat after Passover) with Dr. Beth Ricanati, author of Braided in conversation with Aliza Kline, founder of One Table.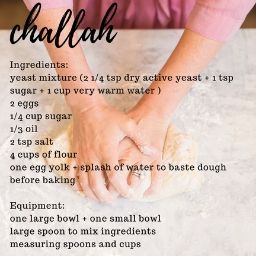 ---
Aliza Kline is a dynamic leader and social entrepreneur. She is the CEO of OneTable, a national nonprofit that empowers people who don't yet have a consistent Shabbat dinner practice to build one that feels authentic, sustainable, and valuable. Aliza was also the founding executive director of Mayyim Hayyim Community Mikveh and Education Center in Boston, an international model for re-imagining Jewish ritual open to the full diversity of the Jewish community. In 2009, Aliza was awarded an Avi Chai Fellowship. A trained coach and design thinking facilitator, Aliza has worked with clients throughout North America and Israel. She earned her BA from Washington University in St. Louis and her MPA from New York University. She lives in Brooklyn, New York with her husband Bradley Solmsen and their very smart and talented daughters Ela, Gila and Nomi.
Beth Ricanati, MD, is an award-win­ning author who has built her career around bring­ing well­ness into women's every­day lives, espe­cial­ly moms jug­gling life and chil­dren. She prac­ticed med­i­cine at NY-Pres­by­te­ri­an/­Co­lum­bia Uni­ver­si­ty Med­ical Cen­ter, the Cleve­land Clin­ic, and now at the Venice Fam­i­ly Clin­ic. Her award-winning debut memoir, "Braided: A Journey of a Thousand Challahs," was published September, 2018. She lives in the Los Ange­les area with her fam­i­ly and one chal­lah-lov­ing dog.
Rabbi Sherre Hirsch is the Chief Innovation Officer for American Jewish University. Rabbi Hirsch made headlines as the first female rabbi at Sinai Temple, the largest Conservative congregation on the west coast. She served as Senior Rabbinic Scholar at Hillel International, where she created and developed Hillelwell, an initiative for Hillels worldwide to become the recognized address for preventative mental health. A thought leader on spirituality and religion, Rabbi Hirsch has appeared on the Today Show, ABC News, Extra, and PBS, among other outlets, and has been a contributor to Time.com, Oprah Magazine, the Jewish Journal, the Hollywood Journal, and more. She is the author of "Thresholds, How to Live Fearlessly and Regret Free" (featured in "Hot Type" in Vanity Fair), and "We Plan, God Laughs, What to do When Life Hits You Over the Head" (recognized on Amazon's Top 100 List).  Rabbi Hirsch was ordained by the Jewish Theological Seminary of America.
Event Contact
Contact Name
The Whizin Center for Continuing Education