Event Details
Bake Along: Sourdough Bread for the Soul
12pm PDT
---
With stay at home orders still in place in many communities, homemade sourdough became a staple recipe of this moment. In fact, sourdough making and its roots are woven into our ancient traditions and rituals. Join gourmet cook and master teacher Debby Segura for an exploration of the world's most comforting carb, and learn how to experiment with your own version!
---
Classic Sourdough (Inspired by Tartine's Country Bread, makes 2 loaves)
---
FOR THE LEAVEN:
A heaping tablespoon of Sourdough Starter
100 grams bread flour
100 grams whole wheat or white whole wheat flour
200 ml. lukewarm water
---
FOR THE BREAD:
200 ml. leaven
700 ml. warm water
900 grams bread flour, plus more for dusting
100 grams whole-wheat flour, plus more for dusting
1 tablespoon fine sea salt or kosher salt
---
DIRECTIONS:
1. Make the leaven: The night before baking, discard all but 1 tablespoon of the mature starter. In a one quart glass bowl or Mason jar, mix the remaining starter with 200 milliliters of warm water and stir with your hand to disperse. Add 100 grams bread flour and 100 grams wheat flour and combine well. Cover with a towel and let rest at room temperature for 12-14 hours or until aerated and puffed in appearance. To test for readiness, drop a tablespoon of leaven into a bowl of room-temperature water; if it floats it's ready to use. If it doesn't, allow more time to ferment.
2. Make the dough: In a large bowl, combine 200 milliliters of leaven with 700 milliliters of warm water and stir to disperse. (Reserve remaining leaven for future loaves as the remaining leaven is your new starter! Keep it in an airtight container in the refrigerator for future use for up to 2 or 3 weeks. Or better still give a heaping tablespoon of fresh leaven to 3 or 4 people who want to make sourdough. But just make sure to keep at least one in your refrigerator for next time you bake!)
3. Add 900 grams bread flour, 100 grams whole-wheat flour and generous tablespoon of salt to bowl and, using your hands, mix until no traces of dry flour remain. Dough will be sticky and ragged. Cover bowl with tea towel and let rest for 1 hour at room temperature.
4. Cover dough with a tea towel and let it rise for an hour. Dip your hands in water, grasp a handful of dough from the bottom and stretch it over to the top of the dough. Rotate the bowl in quarter turns, as you go all around the dough. Cover the dough and let it rest for 30 minutes. Repeat the wait-and-stretch routine every 30 minutes 5 more times, for a total of 3 hours. Finally, cover the dough and let it rest 30 minutes more. The dough should now be billowy and 30% larger in volume. If not, repeat the 30-minute wait-and-stretch routine two more times.
5. Transfer the dough to a well floured work surface, and dust the top of the dough with flour. Cut the dough in half and shape two loaves. Spray two 8"cake pans with non-stick cooking spray and dust with flour. Place the loaves in the pans and cover loosely with Saran Wrap. Allow the dough until almost double in size, about 2 hours (Or, let the dough rise for up to 3 days in the refrigerator. Allow it to return to room temperature before continuing.)
6. Place a rack in the bottom third of your oven and preheat the oven to 475F for at least 20 minutes. Bake the loaves for up to 25 minutes or more, until well browned, with a little char around the edges.
7. Remove the loaves from the pans and cool on a rack for at least 15 minutes before cutting. Serve warm. Sourdough loaves may also be double-wrapped in aluminum foil, placed in a freezer bag and frozen for up to one month!
---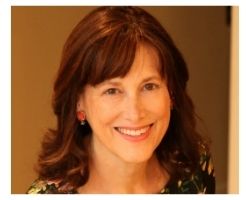 Debby Segura designs a line of tableware that sells nationwide. She is a gourmet cook and cooking teacher, testing all her recipes on family and friends. She brings her abilities as a cook, teacher, designer and friend to the table. Literally!
Debby was born and raised here in Los Angeles, attended Inglewood High School and Union Hebrew High School, and holds a BA in Design from UCLA.  She writes about food for the Jewish Journal and teaches cooking community-wide.
During this period of Covid-19, she has been teaching Sourdough Zoom classes to friends, family and community, wherever they are. And the breads are coming out great!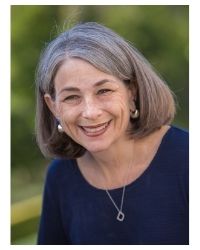 Deb Engel Kollin serves as the Relationship Manager for the Miller Introduction to Judaism Program. Deb previously spent twelve years as Director of Operations for Pressman Academy, and has worked in various settings in Los Angeles and Israel as a Jewish educator and community builder for decades. She holds an MA in Jewish Education from American Jewish University.
Event Contact
Contact Name
The Whizin Center for Continuing Education