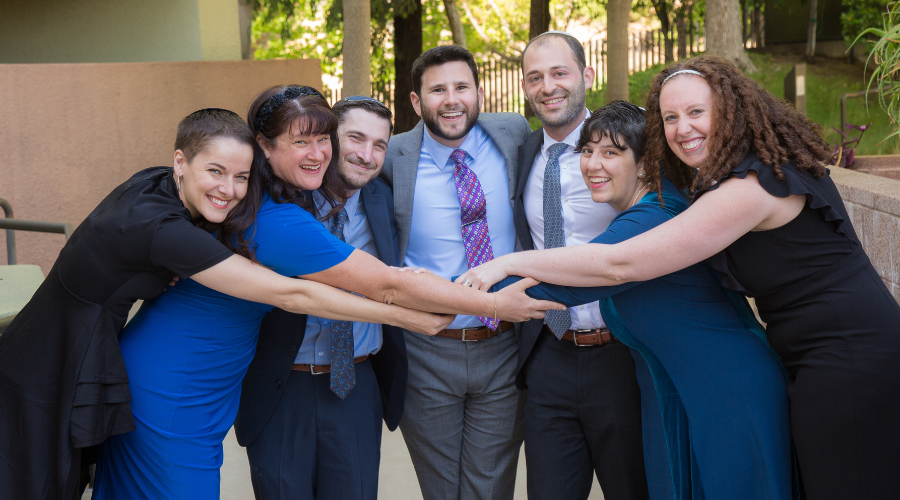 Passing down traditions from generation to generation – l'dor v dor – is an important aspect of Jewish culture. Like links in a chain, our traditions connect us to each other, to our ancestors, and to the future. Rabbis play a vital role in preserving our traditions in the proverbial chain: they are the link-makers, helping communities access the wisdom of the ages. As highly esteemed community leaders, sources of comfort, and respected mentors, rabbis help us build lives of joy and meaning, while keeping our ancient heritage alive.
Rabbis offer vital support, helping people to do the necessary work to survive and thrive through every season. As today's society faces an array of challenges – an ongoing pandemic, a nationwide increase in antisemitism, mass shootings, and the ongoing local, national and international strife – we rely on rabbis to guide us through these trying times to see a way forward. However, rabbis are also a pillar of support during times of joy, helping us usher in births and weddings, b'nai mitzvot and graduations, and so much more – where we welcome Jewish traditions to affirm our values and inspire us to commit acts of loving kindness.
An accessible, inclusive, and diverse rabbinate stands ready to guide Jewish communities around the world. American Jewish University's Ziegler School of Rabbinic Studies is proud to have educated hundreds of these rabbis, who now serve communities in North America, Europe, Israel, Africa and more. Ziegler guides creative, passionate people finding their own unique path to the rabbinate.
Together, Rabbi Bradley Shavit Artson, the Dean of the Ziegler School of Rabbinic Studies, and Rabbi Cheryl Peretz, Associate Dean of the Ziegler School, describe the power of a rabbi: joining people and families to community, communities to the world, and the past to the present.
Rabbi Peretz reflects on the joy that comes from accompanying individuals and families through their challenges: "As a rabbi, people bring you into the most intimate moments of their lives," Peretz explains. "What is unique about the Ziegler School is that we invite people to bring their whole self – their heart, soul, and mind – into their experiences. And when you do that, it impacts people in a much greater way." This sense of deep connection, she explains, is at the root of her work as a rabbi; she takes great joy in sharing music, celebration, and culture with her community.
Rabbi Artson sees this deep connection as the source of the meaning that rabbis inject into society. Referencing the rights Americans are guaranteed in the Declaration of Independence, he observes: "[there is] a very specific definition of life and liberty. But it doesn't define what happiness is. Religion is meant to fill this in, and this is the work of a rabbi." The Ziegler School of Rabbinic Studies empowers students to create this meaning and transmit the beauty and wisdom of Judaism to others.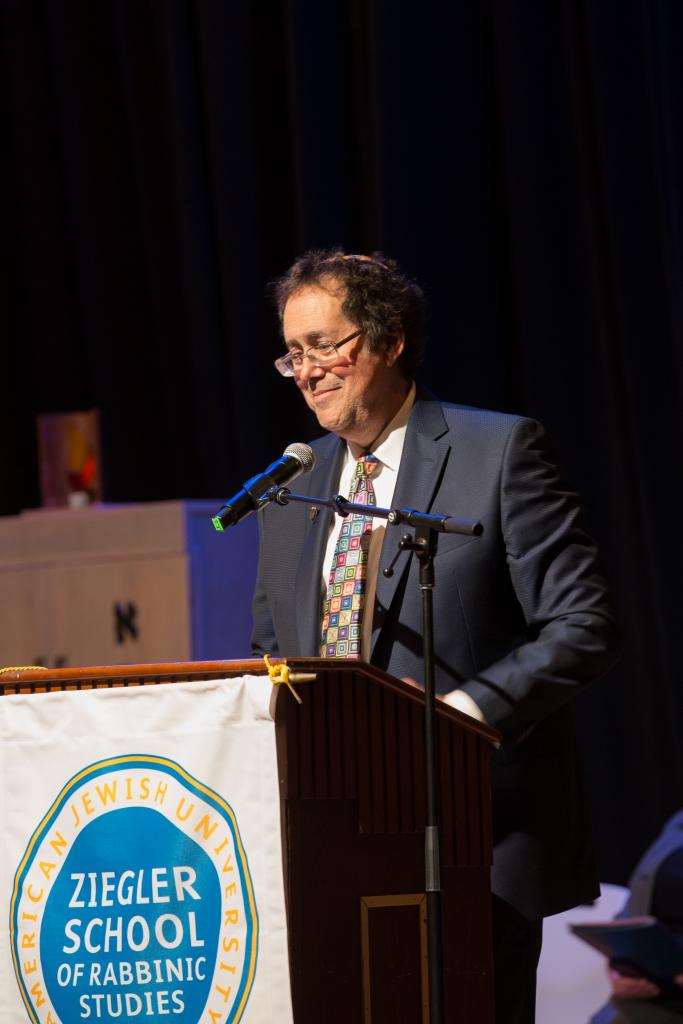 Rabbi Bradley Shavit Artson at Ziegler's 2022 Ordination
"There are hundreds of rabbis who received their training from us. They come to us when they need guidance, advice, or encouragement. Through the Ziegler School, American Jewish University has had the opportunity to enrich the Jewish journeys of thousands of people around the globe—and we're very proud of that," said Rabbi Artson.
The power of this impact lies partially in the fact that rabbis work with people in so many ways: in day schools, hospitals, prisons, and in the military; they provide individuals and couples with counseling, and they serve as communal leaders, running summer camps and social service agencies. On a larger scope, the world turns to rabbis for their professional expertise, communication skills, and vision in areas of interfaith work, conflict mediation, and humanitarian efforts. Today, with increased technology for reaching wider audiences, rabbis' ability to promote connection, community building, and change-making is greater than ever.
Ziegler alumna Rabbi Robyn Fryer Bodzin '05 has sought to incorporate these new methods of communication into her daily work. Shortly after the first Passover Seder of the Covid-19 lockdown, she held a bereavement group on Zoom for members of her community who had lost loved ones to the virus. She created a safe space—physically and emotionally—for them to express their emotions in the comfort of shared community.
This kind of compassionate, spiritual guidance—rooted in ancient Jewish wisdom and tailored to congregants' modern-day needs—is a hallmark of Ziegler School graduates.
Ziegler graduates are leaders who see what people and communities need in the current moment, guiding the world across each perilous transition to a place of greater hope and peace. For some rabbinic link-makers, their work will be person to person; for others, it will be at the pulpit. Some rabbis will provide relief, guidance, and counseling on the front lines of every struggle and conflict, and others will do their work more quietly: writing, praying, teaching, and conversing. In any case, all rabbis are link-makers.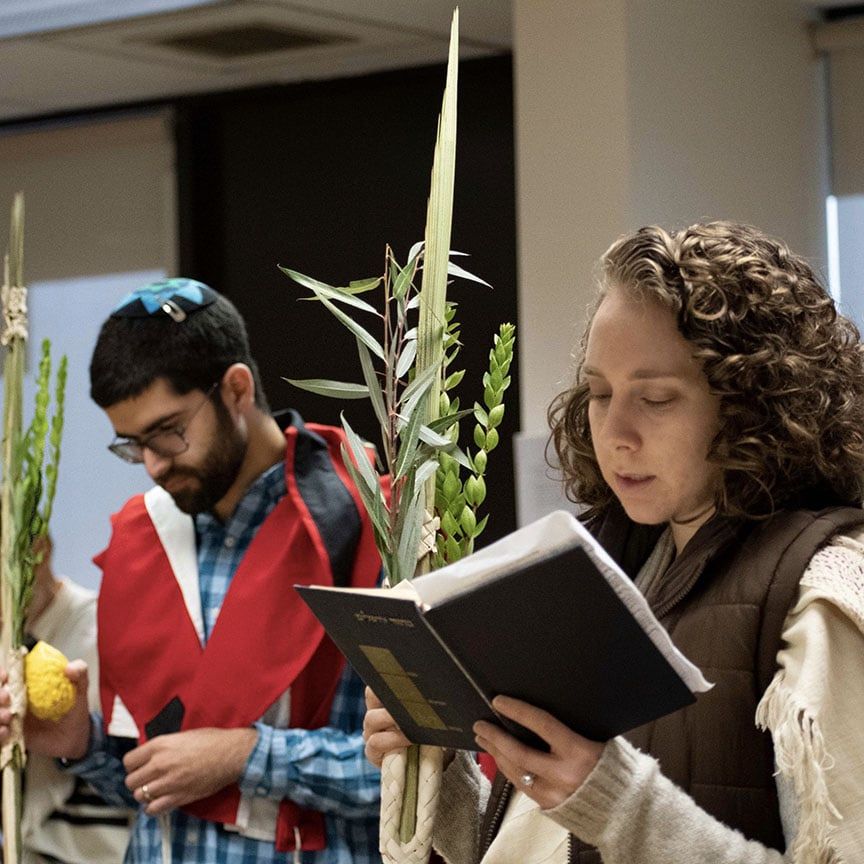 Ziegler students observing Sukkot
The Ziegler School of Rabbinic Studies welcomes those who seek to have a meaningful impact on the world at every level of society – those who wish to become link-makers, no matter the circumstance.
To learn more or apply to The Ziegler School of Rabbinic Studies, visit: www.aju.edu/ziegler-school-rabbinic-studies