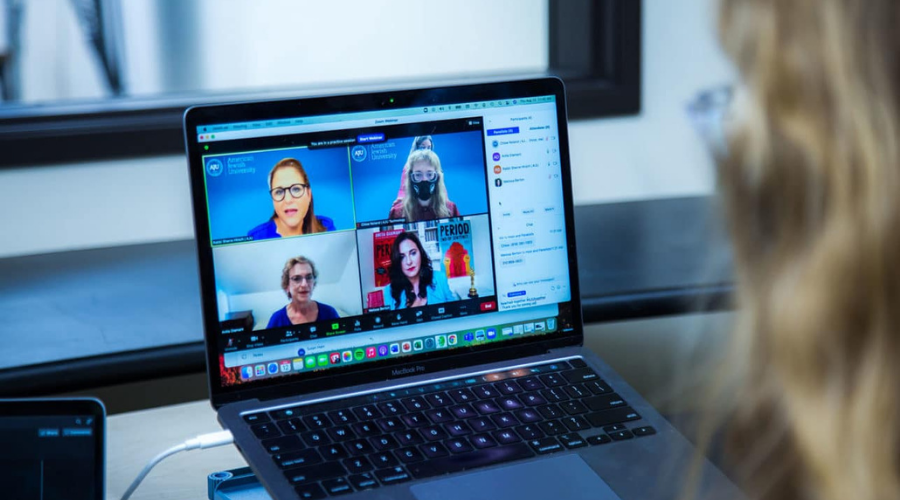 In today's rapidly shifting world, American Jewish University (AJU) is marshalling its creativity and boldness to transform how individuals and communities learn and access Jewish wisdom.
A mission-driven institution that has served the Los Angeles community for decades, AJU is pioneering a slate of online academic and community programs that are making Jewish education and wisdom more easily available, at all stages of the life cycle, around the world.
"The pandemic created an opening for AJU to radically change in real time how we deliver education," says AJU President Dr. Jeffrey Herbst. "We saw this as an opportunity to move quickly, both on new initiatives and initiatives that were already in our pipeline. We reject the traditional narrative of the North American Jewish community, most notably about the abandonment of affiliation and ever-increasing anomie, and see instead new moments to engage large numbers of Jews and others who have not found their home for learning."
The University launched B'Yachad Together: Spirited by AJU, a leading digital platform for conversations centered on Jewish wisdom that has drawn an average of 600 viewers per event. It has also developed robust online degrees in education and business, and new learning opportunities for the next generation of Jewish leadership at the Ziegler School of Rabbinic Studies. With one of the largest gifts the University has received in its history, it created the Maas Center for Jewish Journeys, championing those too-often relegated to the periphery of Jewish life. Within the Maas Center, the Miller Introduction to Judaism program's latest digital venture, On One Foot, offers a self-paced video course for anyone interested in learning about the basics of Judaism from an open, embracing perspective.
"AJU IS PIONEERING A SLATE OF ONLINE ACADEMIC AND COMMUNITY PROGRAMS THAT ARE MAKING JEWISH EDUCATION AND WISDOM MORE EASILY AVAILABLE."
While distinct, these offerings are intertwined with the University's long-standing mission to elevate the Jewish journeys of individuals and organizations. These digital programs reflect and respond to the deeper needs—social, spiritual, and intellectual—of a changing 21st century society.
Herbst explains that AJU is "a non-denominational university based on Jewish wisdom across the board. We do not impose one particular perspective and we are not bound to serve a geographically-defined population." This is clearly reflected in the University's B'Yachad program, soon to be rebranded, led by Chief Innovation Officer, Rabbi Sherre Hirsch. B'Yachad draws a world-wide community to online conversations that capture and deliver insights from guest speakers and AJU faculty.
Hirsch believes that in today's world, "there is a hunger for more conversation." She explains that "right now, online, we have a lot of content, but not a lot of context. So, we can go online and learn whatever we want, but we don't have someone helping us understand." B'Yachad, Hirsch says, was intentionally developed differently to host original conversations that capture Jewish thought and knowledge.
Events have featured a variety of voices, including New York Times bestselling author Anita Diamant and Academy Award winning producer Melissa Berton; Former Ambassador of Israel to the United States Michael Oren; Los Angeles County Supervisor Sheila Kuehl; and Ozark's Julia Garner and Chris Mundy.
Hirsch says her team pictures the warmth of a Shabbat dinner when putting together the virtual programming, recognizing that "a level of intimacy creates something that we are all craving." The need for a resource like this is demonstrated by the program's engagement, well beyond Los Angeles and North America, including communities in South Africa, Australia, Israel, and Argentina. "It's enabled people to find their place and home within Judaism," says Hirsch. That's even true for the interviewees, who have often had "an 'aha' moment about their Judaism," while speaking on the platform, says Hirsch. Hirsch says that these programs are only the beginning of the virtual events and learning opportunities that AJU will offer. "We are constantly iterating and are excited to unveil an entirely new interface soon," she says.
AJU programs provide that sense of connectedness combined with a degree of accessibility not previously imagined. "It is in our DNA to be accessible to all," states Herbst.
Ease of access is also a focus of the University's academic programs, including its recently launched School of Enterprise Management and Social Impact (SEMSI), a first-of-its-kind business school in the United States fully committed to promoting value and impact. SEMSI's cutting-edge MBA will empower a new generation of business and non-profit leaders to serve as ethical change-agents who lead purpose-driven ventures. The degree is completely online. Courses under SEMSI, led by Dean David Groshoff, will teach students to view modern business practices through a lens of values rooted in Jewish ethics.
"The business leaders of tomorrow require an education that arms them with the ability to drive companies that prioritize communities, the environment, and society, not solely equity holders," says Groshoff, noting that this is what the School is addressing, "not just in a single chapter or course, but in the entirety of our programmatic offerings, throughout our business school."
Within the School for Jewish Education and Leadership, AJU has similarly recognized and responded to a changing world, offering online programs for an M.A. in Early Childhood Education and B.A. in Early Childhood Education. The School is driven by a bold vision to elevate the knowledge, skills, and performance of early childhood educators working to ensure a vibrant Jewish future. While the School, led by Dean Dr. Rachel Lerner, has long centered leading models of education, the trailblazing online format allows for something altogether new: accessibility.
"Accessibility is a central value for our university," says Lerner. "We are thrilled to offer these online degree programs, which remove typical barriers to entry."
These technological innovations are only a survey of AJU's current offerings, which embrace a rapidly changing world with an eye toward the future. "AJU's ability—as a nimble institution—to constantly innovate will be central to our identity in the years to come," says Herbst.
Herbst also acknowledges that, "some things cannot be replaced by technology," noting that AJU's Camp Alonim, held at the Brandeis Bardin Campus in Simi Valley, which has long been part of the Los Angeles Jewish community's fabric, will "continue to be an immersive Jewish experience that profoundly influences young people, in large part because of the in-person connections that are forged."
"We hope to marry excellent in-person education with a best-in-class digital platform to serve the large numbers of people who are seeking us out."
Contact Communications
Michelle Starkman, M.A., MBA
Vice President, Communications
michelle.starkman
aju.edu
(310) 440-1526
For urgent media inquiries or reporters on deadline, please contact us at:
(310) 571-8264 or
(310) 739-9489