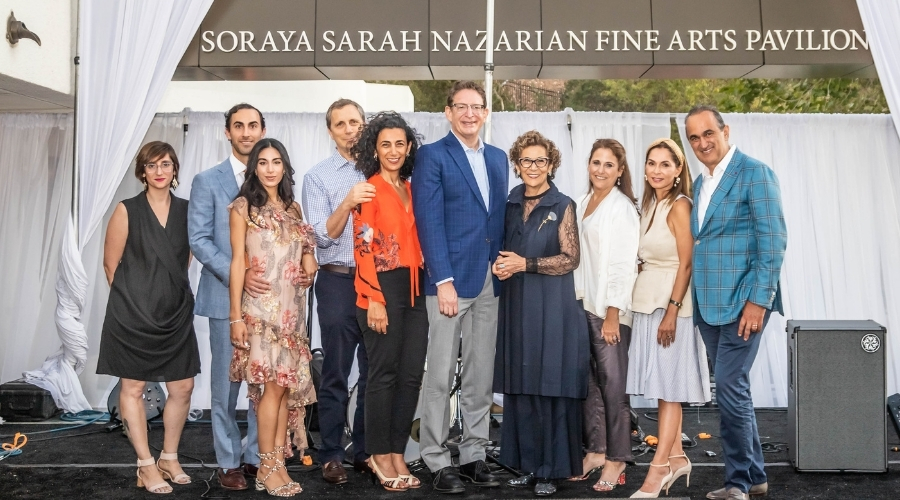 In August, American Jewish University (AJU) held a special event to dedicate the opening of the Soraya Sarah Nazarian Fine Arts Pavilion at its Bel Air campus. Through the generous support of the Younes and Soraya Nazarian Family Foundation, the Soraya Sarah Nazarian Program in Fine Arts at AJU bridges individuals and communities through the power of art.
Speaking at the dedication ceremony, AJU President Dr. Jeffrey Herbst said: "for years, the Fine Arts program at AJU has offered studio instruction in the fine arts and has educated people of all ages, from children to adults. The Fine Arts program unifies the Jewish community by bringing together Jewish educators, Jewish artists, and students. We're grateful that we will be able to enhance this program because of this wonderful gift."
The program is named after Soraya Sarah Nazarian, a distinguished Iranian-born artist who is a master in direct stone carving. Her work explores the themes of motherhood, family, spirituality, and Iranian culture and has been highlighted in various solo and group exhibitions.
"This is a moment when we get to celebrate Soraya, her journey, and the fact that she found her artistic home at AJU over 30 years ago," said Sharon Nazarian, Soraya's daughter. "[AJU] is thinking not only about being cutting edge, innovative, and creating community, but is also looking at what the role of the arts will hopefully be in our society. This institution is a perfect union of the values that we stand for as a family and a Foundation: Jewish identity, education, and the arts."
Referencing the arch in the pavilion bearing the Soraya Sarah Nazarian Fine Arts name, Rabbi Sherre Hirsch, AJU's Chief Innovation Officer said, "this threshold, this arch is symbolic of what it means to carry our past with us and to create new in the future. You are our artisan, Soraya, and every student is part of shaping the art that is yet to come."
To learn more, visit: www.aju.edu/arts-aju.
Contact Communications
Michelle Starkman, M.A., MBA
Vice President, Communications
michelle.starkman
aju.edu
(310) 440-1526
For urgent media inquiries or reporters on deadline, please contact us at:
(310) 571-8264 or
(310) 739-9489