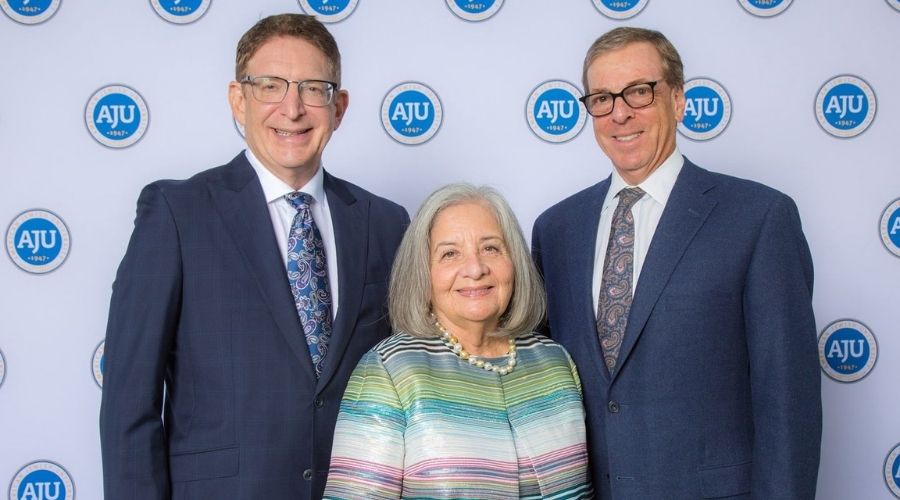 Virginia Maas, the immediate past chair of the American Jewish University (AJU) Board, was honored at the university's annual Gala, held at the Beverly Hilton on October 28th. If the impact a leader had in their community can be measured by the amount of gratitude shown when they step down, Maas left a deep impression.
For over 45 years, Maas has been a  pillar of positivity and a staunch advocate of investing in the next generation. Before getting actively involved with the AJU in 1986 (then known as University of Judaism), she had been a past president of Temple Beth Am, a past president of the Westside Jewish Community Center, and three-time past president of the Beverly Hills school board.
"SHE PAVED THE WAY FOR THE REST OF THE WOMEN [AND] SHE CREATED AN ATMOSPHERE WHERE THERE'S SUCH INCLUSIVENESS AND DIVERSITY ON THEIR BOARD." — DEBBI KANER GOLDICH
"Virginia is very smart," said Debbi Kaner Goldich, current vice-chair of the Ziegler School of Rabbinic Studies Board of Advisors and president of the Women's League for Conservative Judaism. "At a time when many women were not serving on boards and not as chairs of very important universities and specialty universities, Virginia was the chair of the Ziegler School of Rabbinic Studies and soon after, the chair of AJU. She paved the way for the rest of the women [and] she created an atmosphere where there's such inclusiveness and diversity on their board.
"She listens, she comments and never makes anyone feel that their comments were unimportant or insignificant," Kaner Goldich said. "She doesn't speak often. She's one of those people that when she speaks, you listen, because you know she has something important to say. She doesn't speak for the sake of speaking."
Maas spoke briefly and used her time to commend AJU's staff, students and supporters. She thanked them for their confidence in her. No boasting of numbers, awards, or superlatives—just pure adoration for an institution she believes in.
"My role as chair of the board of the AJU has been the most meaningful position I have held in all my years in leadership in the Jewish community," Maas said.
Maas also led AJU's Academic Affairs Committee and had leadership roles on the Miller Introduction to Judaism Advisory Board, Whizin Center for Continuing Education Advisory Board, Patrons Society, and School for Jewish Education and Leadership Advisory Board. And was elected chair of the AJU Board of Directors in 2016.
One of the major changes that occurred during Maas' time at AJU  was the "sunsetting" of the school's undergraduate program in 2018. For any university, this is a colossal change. The specialty schools within AJU remain both active and influential. But Maas and her husband Frank went above and beyond in investing in the future of the university.
In early 2020, The Maas Center for Jewish Journeys was established with a generous gift from the couple as a way to, "inspire and support thousands as they explore their Jewish faith," the Center's mission states. Ultimately, the Center unified several programs within the AJU. One of the programs, Miller Introduction to Judaism, converts more people than any other program in the United States. According to AJU, the Maas Center has already reached 18,000 Jewish learners in its first two years. 
The speakers were effusive in their praise for Maas. Catherine Schneider, AJU's Chief Development Officer, called Maas "the real Wonder Woman," adding that "Israel has Gal Gadot, but we have Virginia Maas." Jeff Herbst, AJU's President since 2018, remembered Maas fondly. "I'll be forever grateful that I had Virginia as a partner. She allowed us to embark on a new path and create a new type of university to seek to meet North American Jewry where it is today." Harold Masor, who is succeeding Maas as the chair of AJU's board, "Beyond what Virginia has done for AJU and the Jewish community, she is a dear friend, a trusted colleague, and a gracious mentor…Now as I step in to fill Virginia's very large shoes, I look forward to continuing the path of growth and diversification of our board that Virginia set in motion."
When asked what advice she had for future leaders, Maas paused, looked around at the several hundred attendees, and began to reflect. 
"You have to be passionate about your involvement," she said. "I think you do have to want to make a difference, whether it's small or large. You don't have to be a chair of the board [and] you don't have to be a president of an organization. You just have to want to do good."
Contact Communications
Michelle Starkman, M.A., MBA
Vice President, Communications
michelle.starkman

aju.edu
(310) 440-1526
For urgent media inquiries or reporters on deadline, please contact us at:
(310) 571-8264 or
(310) 739-9489