Event Details
Israel Beyond the Headlines: Part III with Eetta Prince-Gibson
10:30am-11:15am, PDT
---
Prerequisite Note: Due to the virtual setting of this class, you must have computer capability, including internet access, in order to participate. A camera is also optimal but not required.
---
Israel's civil society is complex, and its political and financial realities change dramatically with each passing day. Join three veteran journalists representing Ha'aretz, Moment and Globes as they offer a deep dive to what really is happening in Israel from their perspectives and what the uncertain future may hold. 
Please Note: This is a single session, Part 3 of the series. If you would like to sign up for all 3 sessions and receive a discount, click here. 
---
July 20th, 2020
Instructor: Eetta Prince-Gibson - Israel editor of Moment Magazine and regular contributor to prominent domestic and international publications.
Topic: Civil Society and the Crisis of Democracy: Despite threats to democracy and social cohesion, Israel has a remarkable civil society working to promote equality, multiculturalism and liberal values.  Can civil society help Israel face the current crises? And what role can the American Jewish community play?
---
All Zoom invitations and links to course material will be included in your confirmation email. If you do not receive them, please reach out to wcce [at] aju.edu.
---
ALL SALES FINAL. NO REFUNDS OR EXCHANGES.
---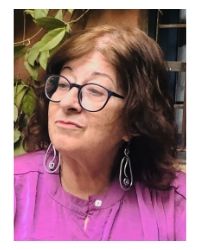 Award-winning journalist, academic, and lecturer Eetta Prince-Gibson, previously Editor-in-Chief of The Jerusalem Report, is the Israel Editor for Moment Magazine. She is a regular contributor to +61J, Haaretz, The Forward, Hadassah Magazine, Foreign Affairs, and other Israeli and international publications and a frequent commentator for domestic and international radio and TV. Her work focuses on Jerusalem, Israeli-Arab relations, gender, and civil society, as well as political analyses. 
Eetta has been awarded the Clarion Award, the National Religion Writers' Award, the Search for Common Ground Award for Reporting and Analysis on the Middle East, and several Rockower Awards. She has travelled to Greece, Haiti, Mumbai, Russia, Belarus, Ukraine, Georgia, Northern Ireland and France, covering breaking stories and socio-political developments. She has taught political science and gender studies at Hebrew University and at Brandeis University and received academic awards from both these universities in recognition of her original research and excellence in teaching.   
Event Contact
Contact Name
The Whizin Center for Continuing Education