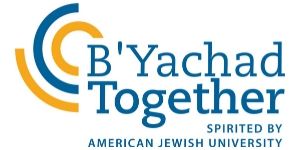 Welcome to B'Yachad Together.
As the world faces an unprecedented public health crisis, we are pleased to launch B'YachadTogether: Spirited by American Jewish University. This is our new online portal that will serve the AJU community. B'YachadTogether offers immersive experiential learning to drive dynamic Jewish journeys, captures and delivers the insights of our faculty and friends, and convenes our diverse and inclusive community to advance ideas, dialogue and debate.
While we all practice social distancing, we can all come together thanks to the power of technology. There is no cost to attend any B'YachadTogether program, all of which are delivered online via Zoom. Please select your class below and register.  Your confirmation will provide you with a Zoom link and meeting ID. To join the class, go to join.zoom.us. Enter your meeting ID provided in your digital confirmation (you may have to download an app if accessing from your mobile device). Click Join. When asked if you want to open zoom.us, click Allow.
We look forward to seeing you online.
---