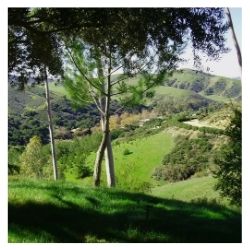 There's nothing like celebrating Passover with community. This spring let us do the hosting for an all-inclusive holiday on AJU's Brandeis-Bardin Campus in Simi Valley. We will provide everything you need to celebrate a meaningful, fun and relaxing holiday with family and friends – new and old.
Choose one or both of our Passover weekends, where you'll be able to participate in Jewish life, explore Jewish culture and text, and enjoy our outdoor and nature programming. Seder options will include communal options - led by engaging and experienced leaders - as well as semi-private alternatives reserved just for your group. Both weekends will include delicious kosher for Passover food, scholarly lectures, optional services, family and adult programming, and plenty of rest and relaxation.
Come spend Passover enjoying our 2,800-acre campus surrounded by community - or enjoy the quiet and solitude - all in a COVID-compliant environment.
March 26-30, 2021
Friday afternoon through Tuesday breakfast
Since the first seder is Saturday night, we'll start the weekend together on Friday in time for Shabbat. We'll enjoy a special Shabbat together, followed by two unique seders, and Passover days full of programming and learning. Seder options will include both communal options ,as well as semi-private accommodations. The last meal of the weekend will be breakfast on Tuesday morning.
Guests are welcome to arrive after 12:00PM on Friday (3/26), and spend the weekend with us, enjoying a range of pre-selected camp activities (run for one person or family at a time). The weekend will include all meals - including Shabbat meals and all Passover meals through Tuesday breakfast. For guests who stay until Tuesday, check-out on Tuesday (3/30) is by 10:00AM.
Seders

If you join us for the first getaway weekend (March 26-30), there will be several seder options to choose from on both nights, including large group traditional seders, a game-show style seder, and more. Second night there will also be the option for semi-private seders. All seders will be led by visiting scholars and teachers. 
Our plans for seders have been adapted to ensure the health and safety of our guests through a series of COVID-19 prevention policies and procedures. These measures were developed under the guidance of our staff and are in alignment with the CDC guidelines, California's Department of Public Health, as well as the County of Ventura. Please note that plans may need to be adjusted as dictated by public health guidelines.
RESERVE NOW 3/26-3/30
April 2-5, 2021
Friday afternoon through Monday breakfast
Join us as we wrap up the holiday together. We'll provide the lodging, delicious (and kosher for Passover) food, and the activities (including services, programming, and lectures). Come alone for the peacefulness of Brandeis - or bring your family and friends with you. 
Guests are welcome to arrive after 12:00PM on Friday (4/2) and stay through Monday breakfast (4/5). Once Passover ends on Sunday night, we'll finish the holiday together with a scrumptious pizza dinner! Check-out on Monday (4/5) is by 10:00AM.
RESERVE NOW 4/2-4/5
Are you excited? We are! 
Do you have friends that will be excited? Let them know about this opportunity! Bring them with you!
Do you have questions? Email Navah at nbecker

aju.edu for more information.